This has been 9 years for Siwon in Entertainment Industry this month. We are gonna congratulate him today & send him tons of love.
We are gonna TWEET this TOGETHER to Siwon on Wednesday Oct 10,2012 at 11 am KST in the morning and in the evening 11 pm KST.
Here is what we will tweet :
http://www.youtube.com/watch?v=DB6m6xnSI0U #HappySiwon9thAnniv.Stay healthy & Gbu We love @Siwon407[fan location&message]
Example, If your twitter acc @abcdefg , you may tweet at 11 AM KST :
http://www.youtube.com/watch?v=DB6m6xnSI0U #HappySiwon9thAnniv.Stay healthy & Gbu We love @Siwon407 fr Russia,we will always by your side
Video :
To always support Siwon, siwonlover.com start to collect all messages from fans.
PLEASE READ THE STEPS CAREFULLY
☆☆☆☆ Steps you must do to join :
1. Choose the template we provide. We have provided 2 templates for you. Choose one of them! Click at the download buttons below to download the templates.
2. After downloading the template, you can write down
your message
for Siwon and put
your photo
on the template which you have downloaded (we have provided examples on how the final result should be in Example Section below). How to do this? There are 2 ways that you can use to do that. Just use one of them. :)
First
, you can use image editing software, such as Photoshop, to write your message and put your photo
digitally
in the template. Save that new edited image in .jpg or .jpeg type.
Second
, you can print the template you download in A4 paper (size of 297 x 210 mm) in colors. Please don't print in black and white, because we want it to be visually nice. After that, write your message
manually
(hand-written) and put/glue your photo in the frame at the template. Capture or scan the paper (make sure it is clear photo). Please save the scanned/captured image in .jpg or .jpeg type.
3. You can give additional decoration in that template, like your country flag or anything, but please don't overdo it.
4. Upload your new edited image or scanned/captured image here. At the end of this post, you may see a form where you must fill in each info and upload your new edited image there. Please note that the type of the edited image uploaded must be in .jpg or .jpeg type and the size should be less than 5MB.
☆☆☆☆ Example
Template 1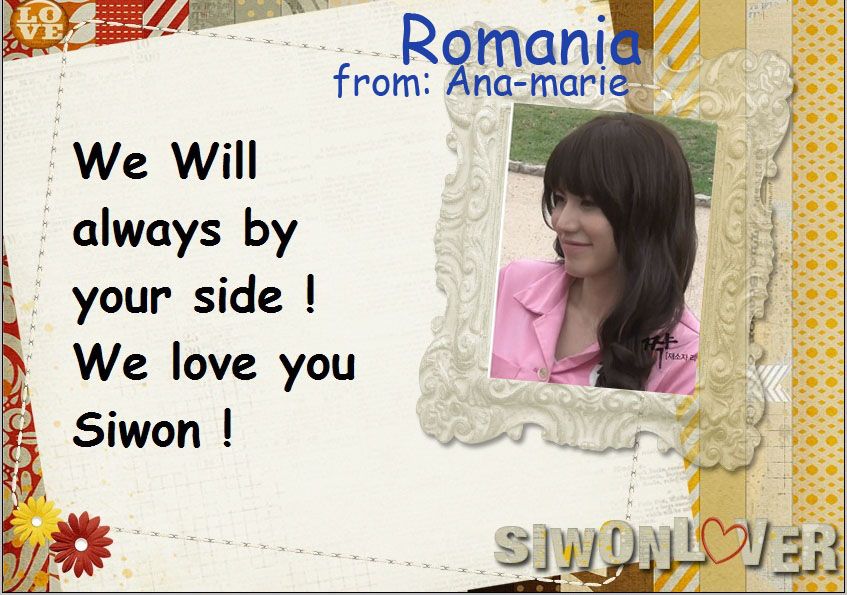 Template 2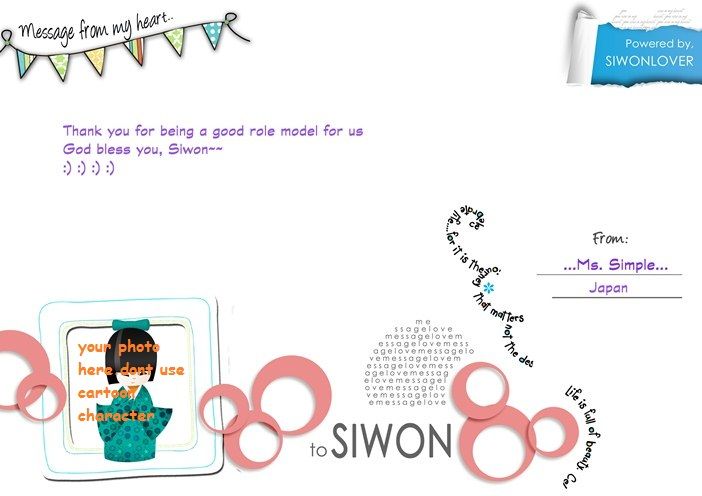 ☆☆☆☆ Message Contains :
Less than 5 sentences as

support message

for Siwon.
Your Name
Your country name
No personal information (address, phone numbers)
No references to pairings or couples
No obscene references or vulgar words
☆☆☆☆ Due Date :
Saturday, Sept 22, 2012
23:59 KST (11:59 PM KST)
☆☆☆☆ Submit your new edited image here :
Woohoo! Of course I will join! *Fill the form, and upload your new edited image*
☆☆☆☆
PROJECT HAS BEEN CLOSED.
THANK YOU SO MUCH FOR PARTICIPATING.
☆☆☆☆
☆☆☆☆ Participants List :
[learn_more caption="Click here to see Participants List"]
Algeria

DouniaZed

Argentina

Elizabeth
Leonela Gentil
Joki Kim
Jeanne
Yun Mi

China

Wang Borui

Egypt

Nada Waleed
Dina Magdy Mohammed
Dalia Magdy
Salma Mousa
Hager Mohammed

El Savador

Ena Flores

Germany

Mandy

Hong Kong

Natally Lam
Lorita
C.Y. Yu

Indonesia

Anindya Indira Putri
Iman Bisyir
Debbie Laysifphet
Revi Dwiyanti
Daisy Maulida Juniar
Shinta Nur Amalia
Hana
Pipit
Ladwina Decy
Ayesha Belma
Han Saeyoon
Janice Susana
Hanifah Devi
Annes Prima Dianti
Erika Suciari
Melissa Kosasih

Iran

Gilda Farshchian

Italy

Isabella Lovisi
Anna Rita Ponga
Liliana
Irene Carfagnini
Erika Longhi
Sara Puglisi
Alessandra Moioli
Fabiola
Giulia Z.
Laura Ramirez

Japan

Mayo Kuroishi

Jorden

Rawan Naeem Abo Ali

Malaysia

Kelly Phang Kar Ling
Siti Nurfalah Aqilah
Arifah
Nur Syhaheera

Mexico

Zayra Estefania Ortiz
Claudia Villa

Palestine

Dareen Nagem

Peru

Mariana Matos Matamoros

Philippines

Pauie Tanaka Espiritu
Daizel Lynn Navarro

Romania

Ioana Ionita

Saudi Arabia

Hadeel Alatmimi
Amjad
약속
Aliasiwon
Sara Zain
Lee Ji Soo
Tahany
Nawal
Ahmad Lim
Iamees IE
Nana Angle
Wejdan Salem
Manal Tonahun
Tootee
Noon
Kkumhae
Snowy ^_^

Singapore

Shim Chae Min
Marissa Chang

Syria

Amira Mardini

USA

Cassandra Castro

Venezuela

Yaquelin Castillo

Vietnam

Luu Quynh Phuong
Bui Thi Van Anh
[/learn_more]
Tweet