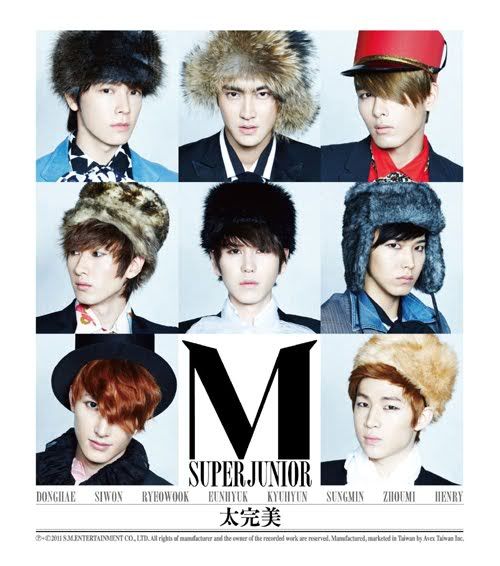 ORDER PERFECTION - KOREAN VERSION HERE
Super Junior M 2nd Mini Album - Perfection (Korea Version)
Our Price: US$14.99
List: USD 19.98
Save: USD 4.99 (25 %)
Free International Shipping
Product Title: Super Junior M 2nd Mini Album - Perfection (Korea Version)
Release Date: 2011-03-03
Language: Korean, Mandarin
Disc Format(s): CD
Package Weight: 150 (g)
Publisher: SM Entertainment
슈퍼주니어 엠 두번째 미니 앨범 - 태완미(Korea Version)
01. 태완미 (太完美; Perfection)_Korean Ver.
02. 太完美 (Perfection)
03. 命運線 (Destiny)
04. 幸福微甜 (Love is sweet)
05. 表白 (Off my mind)
06. True Love
07. 吹一樣的風 (My all is in you)
슈퍼주니어 중국어권 유닛 '슈퍼주니어-M'
새 미니앨범 '太完美' 2월 28일 국내 발매! 아시아 석권 예고!
중국어권에서 폭발적인 인기를 얻고 있는 슈퍼주니어의 유닛 '슈퍼주니어-M'이 1년 5개월 만에
발표하는 새 미니앨범 '太完美(태완미)'가 오는 2월 28일 국내에서도 발매된다.
슈퍼주니어-M은 지난 2008년 4월 중국어 앨범을 발표하며 정식 데뷔해, 각종 음악차트 1위석권은 물론 중국 연말 시상식 최고 그룹상 그랜드슬램을 달성한 바 있으며, 한국 아티스트 최초 중국 우표모델 선정, 세계적인 음료브랜드 '펩시콜라' CF모델, 휴대폰 'OPPO' CF모델로도 활동하는 등 가수뿐만 아니라 다방면에서 활발한 활약을 펼쳐, 이번 활동에 대한 기대가 더욱 큰 상황.
특히, 2009년 9월 출시한 'SUPER GIRL' 이후 약 1년 5개월 만에 발표하는 두 번째 미니앨범
'太完美'에는 기존 멤버 시원, 동해, 려욱, 규현, 헨리, 조미 외에 은혁과 성민이 특별히 참여해 함께 활동을 펼칠 계획이어서, 중국, 대만을 비롯한 아시아를 강타할 슈퍼주니어-M 열풍은
더욱 거세질 전망이다.
이번 미니앨범에는 세련된 댄스곡인 타이틀 곡 '太完美'를 비롯해 멤버 헨리의 자작곡 '表白', 조미가 작사한 'True Love' 등 슈퍼주니어-M의 다양한 매력을 느낄 수 있는 6곡의 중국어 노래가 수록되어 있으며, 한국 앨범에는 특별히 타이틀 곡 '太完美'의 한국어 버전까지 총 7곡을 담아 국내 팬들에게도 뜨거운 반응을 얻을 것으로 보인다.
한편, 슈퍼주니어-M의 새 미니앨범 '太完美'은 2월 25일 중국, 대만에서 온라인 공개와 오프라인 발매를 시작으로 아시아 지역에서 순차적으로 출시될 예정이다.
Sorry, for rough translation ;)
Popular in Chinese-speaking explosive unit of Super Junior Super Junior-M '1 year 5 months
To announce a new mini-album '太完美 (taewanmi)' coming on February 28 will be released in Korea.
Super Junior-M in the last album, released in April 2008 and officially debuted in Chinese, all the charts as well as a Chinese year-end awards wiseokgwoneun geurupsang best Grand Slam has been achieved, China, South Korea's first postage stamp model chosen artist, world Beverage Brands 'Pepsi' CF model, the mobile phone 'OPPO' CF model, singer as well as activities such as plays unfold active in many areas, this activity is expected for the larger situation.
In particular, launched in September 2009 'SUPER GIRL' released after about 1 year and 5 months after the second mini-album
'太完美' cool an existing member, Donghae, Ryeowook, Kyuhyun, Henry, in addition to seasoned Eunhyuk and Sungmin is particularly involved with planning a variety of activities, followed by China, Taiwan and other Asian craze hit the Super Junior-M
Is expected to further geosejil.
This mini album title song of the sophisticated dance song '太完美' as well as a member of Henry's songs '表白', is a seasoned wrote that 'True Love' and Super Junior-M can feel the charm of a variety of six songs to sing more Chinese has been, especially South Korea, the album title song '太完美' to the Korean version of the song put a total of seven responses to domestic fans seem to get too hot.
Meanwhile, Super Junior-M's new mini-album '太完美' and Feb. 25, China, Taiwan, starting with public online and offline sale will be launched in Asia
let's share this article on twitter :)
Tweet