Seoul, Korea – The film set of Athena: Goddess of War, the spin-off of Iris, has been revealed.
On the 10th, still cuts of the film set, the largest ever in history for a drama which will be used as the headquarters of the NTS, was revealed by the production company Taewon Entertainment.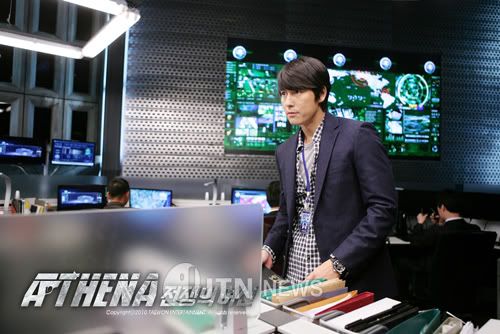 The film set for the NTS head quarters includes a situation room, autopsy room, conference room, the office of director Kwon Yong Gwan (Yoo Dong Geun), and the office of branch head 'Son Hyuk' (Cha Seung Won), and is a space to emphasize and maximize the reality and tension of the drama.
On the 9th, Tae Won Entertainment made a MOU with Donga Broadcasting Arts University and built a large-scale film set at the university's Dima Filming Complex.
At over 600 square meters in size, this set is comparable to one of a 'US show' and is set to showcase the scale and detail which will grab the viewers' attention.
As a space where one can see the important cases with which the drama deals with, the set is filled with numerous monitors worth hundreds of thousands of dollars to deliver situations outside of the situation room clearly and in detail.
Tae Won remarked "The film set of Athena not only serves as the backdrop of the show but as a personal space for the characters to fully elevate their roles", adding "the offices of Son Hyuk and Director Kwon are on the 2nd floor looking down at the situation room, right across from each other, symbolizing their relationship".
The room the producers want to focus on other than the situation room is the autopsy room. This is because the key evidence from the cases shown in the stories is set to be revealed in the autopsy room. The autopsy room is filled with the latest equipment worth over 3 million dollars, and there are real size casts where an actual autopsy can take place.
Athena, starring Jung Woo Sung, Su Ae, Cha Seung Won, Lee Ji Ah, Choi Si Won, and Kim Min Jong, is set to air on SBS in December.
By Hyun Hwa Young (
young@jtn.co.kr
) http://en.korea.com
Source:
JTN
(Original article in Korean) - Photo from JTN DB - Translated by Timothy Nam /
Korea.com
Shared by Eunice @Siwonlover
let's share this article on twitter :)
Tweet