th Year Anniversary Party 2010.11.06
The fanmeeting started with Sorry Sorry.
After the song ended, they said, "we are Super Junior~" and E.L.F.s said, "we are E.L.F.~"
Then, each member introduced himself. Some of them introduced themselves the same way they did when they debuted.
So, Leeteuk said, "I'm an angel who lost his wings, teuki teuki Leeteuk." Heechul said, "I'm Cinderella Heechul." Eunhyuk said, "I'm jewel handsome man Eunhyuk."
Kyuhyun said, "I'm the real dancing machine."
After the rest of the members introduced themselves, a compilation video of Super Junior's appearances on various shows started playing.
The members came on the stage again.
Next was a quiz show. The member who gets the most questions right would get beef and the second place would get wine.
The first question was "what is the web address of official Super Junior website?"
Heechul answered that it's SJ-Market while someone answered that it's Onsaemiro.
Other questions included, "how many times the song Miinah says miinah?" and "what's title of the movie that all the Super junior members appear in?"
Heechul was number one and received the beef. The second place was Sungmin and Eunhyuk. So, Sungmin got the wine while Eunhyuk got the Wine case.
Next came a huge cake. Kyuhyun was complaining that it's not 5 year anniversary for him.
A video played where other artists congratulated Suju on 5 year anniversary.
Next was the floulescent stick event. The song Happy Together came on and E.L.Fs started singing.
Donghae was the only member who cried and others made fun of him for it.
Next, Siwon and Donghae imitated Siwon's Reaction commercial.
Then, it was time for the members to pick out questions that E.L.F.s asked and answer them.
Kyuhyun's question was from a Chinese fan. The fan asked if he can kiss her and he said yes.
The other members said that he can't and Kyuhyun picked another question.
The question was, "if you are born as a girl, who would you get married to?"
Leeteuk told him to hug the member that he wants to get married to.
Kyuhyun went behind Leeteuk and kissed him on the cheek.
Donghae picked a question and it was, "What's Eunhyuk to Donghae?"
Donghae answered that Eunhyuk's someone who he can't explain in words.
Then, Siwon got mad and grabbed Donghae's collar. Siwon asked him, "then, what about me?"
Leeteuk said that it's time for Donghae to choose between Eunhyuk and Siwon.
Siwon told Leeteuk to give him a chance to say something before Donghae makes the decision.
Eunhyuk said, "Siwon, are you getting nervous? Eunhae's the real deal."
Siwon then said, "Eunhyuk can't take care of Donghae. I have the ability ot take care of Donghae forever."
Donghae felt like he was in a difficult situation and said he would rather die.
In the end, Donghae couldn't choose, so Eunhyuk and siwon became a couple:D
Most of Heechul's questions were asking whether he was a girl.
Heechul said he was going to show himself for 5 minutes and pretended to take of his pants.
E.L.F.s were shouting, "take it off." Heechul then said, "you guys are perverts."
Eunhyuk was asked, "who do you like more? Choco or me?"
Eunhyuk said, "how can you compare a person with a dog?" Yesung then said when he was in the dorm with Choco, Eunhyuk ignored him.
When Eunhyuk came home, he went right towards Choco. Then he saw Yesung and said, "ah, you were here too?"
Ryeowook was asked, "what's Leeteuk underwear to you?"
He replied that it's ragged.
The members talked about Kibum. They said Kibum's currently receiving acting lessons. They also talked about Hangeng.
Then, they talked about their upcoming schedules. Super Junior-M is currently preparing to record their album.
Sungmin talked about his drama. Yesung is receiving a lot of requests to sing OST. Heechul's receiving a lot of requests to be on variety shows.
Next was each member's feeling about today.
Kyuhyun said it has been only 4 years and 6 months for him and that he's going to have a party 6 months later to celebrate his 5th year.
Sungmin said he was able to be here today because of other members. He's going to continue to work hard.
Heechul said he wants to receive Golden disk daesang.
Eunhyuk also said he wants to receive daesang.
Yesung said he wants to receive an individual award for his song.
Leeteuk said he wants to be with E.L.F.s forever and that he's very thankful.
Afterward, they sang Marry U.
The song ended and Super Junior said, "we are Super Junior~"
They said good bye and got off the stage.
Source: ehedi, hyedd125, bear_rin @ Naver.com
Translated and edited by Minnie @ SUJUISM.BLOGSPOT.COM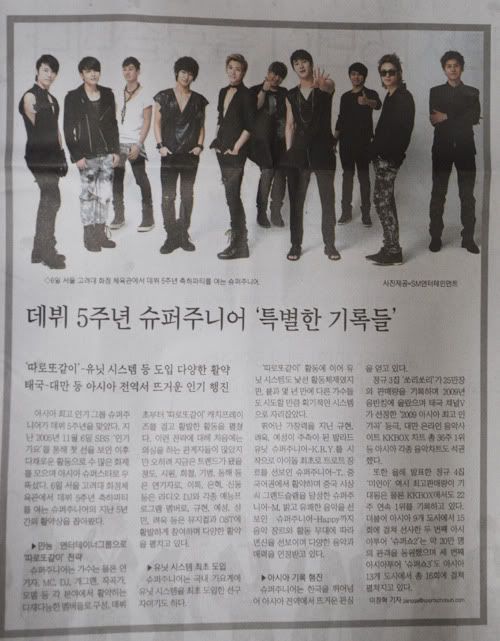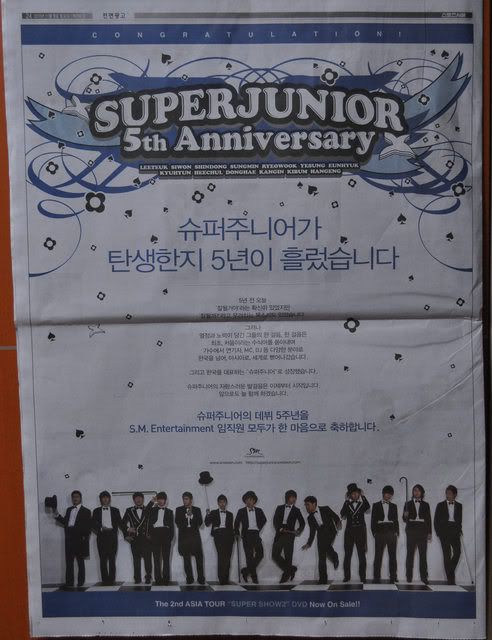 credit: 13monkeyhouse.com + 화란* @ 슈퍼마켓 + twitter.com/byeol1215 + 노네임/슈퍼마켓
Reuploaded By: ★↘Miss↗Shayne + ★яєιℓα @ SJ-World.net
let's share this article on twitter :)
Tweet