Christmas is near and 3rd Wave made it early for every one!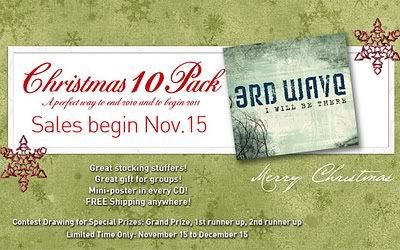 Starting on Nov. 15 until Dec. 15, they will have a Special Christmas Sale for the album project "3rd Wave: I will be there". For every person who buys a CD during this period will receive will have a free mini poster, free ringtone, and free shipping anywhere in the world!
If you purchased a single CD (9 or less), it will cost 12,000 KRW or $12 (per CD), but if you buy it by BULK, there will be a special rate where in per album will cost 10,000 KRW or $10 only.
Another thing you are eligible to win their contest if you purchase the album and great prizes are waiting for you. Here are the informations you might want to know about it.
1. 4 winners for the Grand Prize will get
* Four of the 3rd Wave artists have handpicked gifts for the Grand Prize Care Package: Brian Joo, Siwon Choi (Super Junior), Van Ness Wu, Johnny.
**Last time Brian Joo already revealed the prize he will give and he personally handpicked a cross necklace with diamond studs.
**Siwon is up next and the gift should be revealed on coming Thursday.
* 3RD WAVE MUSIC T-shirt
* Autographed booklet and CD
* Ringtone Pack
* Voucher for the next 3RD WAVE MUSIC album coming out in 2011
2. First Place Prize where in there will be 7 possible winners
* 3RD WAVE MUSIC T-shirt
* Autographed CD booklet
* Ringtone Pack
3. And lastly for the Second Place Prize, 100 lucky contestants are about to get,
* Autographed CD booklet
Proceeds will be donated to IWIN Campaign, a program under Food for theHungry Int'l, Ivory Coast . Despite this artist busy schedules, they can still find time to help the people in Africa.
On the other hand, Brian Joo who is also part of this album project has recently released his single with Jade Valerie entitled "Don't Tell Me I'm Wrong".
So what are you waiting for! Grab a copy of this only at http://www.3rdwavemusic.org. Great album great prices and amazing prizes!
Article by:sukira@dkpopnews.net
Cr:3rdwave Representative
3rdwave representative are @brianjoo110, @siwonlover, @welovechoisiwon @welovewonhae
Wanna win this Grand Prize #1 handpicked by @Brianjoomuzik? Get @3rdWaveMusic CD starting 11/15! http://www.3rdwavemusic.org #3rdWaveinfo
Stay tuned to see what @siwon407 & @VanNessVanWu have chosen as their gift! Support @3rdWaveMusic! http://www.3rdwavemusic.org #3rdWaveinfo
Over 550 have gotten the FREE @3rdWaveMusic app! WOW! Search for "3rdWave" on iTunes & try the NEW puzzle! http://bit.ly/awhg9A #3rdWaveinfo
TRIVIA: Which song has two versions on the @3rdWaveMusic album? http://www.itunes.com/3rdwave #3rdWaveinfoANSWER: I Stand! Track 7 @Brianjoomuzik+@3rdWaveMusic Johnny on vocals ft "The Acoustic Ninja" @tracebundy http://bit.ly/awhg9A #3rdWaveinfo
Track 11 @3rdWaveMusic I Stand alt ver w/ @Brianjoomuzik. A heartfelt song captivating you from the intro! http://bit.ly/awhg9A #3rdWaveinfo
---------------------------------------------
The @3rdWaveMusic X'mas sale is just 3 days away! There are potentially 111 winners for the prizes! http://www.3rdwavemusic.org #3rdWaveinfo
4 Grand Prize + 7 1st Place Prize + 100 2nd Place Prize winners!! Is @3rdWaveMusic generous or what?! =P http://bit.ly/awhg9A #3rdWaveinfo
Over 40K people have downloaded @3rdWaveMusic's Looking for the Day alt ver for FREE! Have YOU? Click: http://bit.ly/bKiC5C #3rdWaveinfo
Wanna help @3rdWaveMusic spread the word about X'mas sale? Put this banner on your site, blog, etc.! http://twitpic.com/34yowk #3rdWaveinfoIf you wanna see exclusive pics & HD video interviews, then get the @3rdWaveMusic digital album on iTunes! http://bit.ly/9b9mpV #3rdWaveinfo
Watch the @3rdWaveMusic sneak peek interview here with @Brianjoomuzik @VanNessVanWu! http://www.youtube.com/watch?v=RX5_6i8i924 #3rdWaveinfo
---------------------------------------------
The @3rdWaveMusic X'mas sale kicks off on Monday! Only $12/CD & $10 each when you buy 10 or more! http://www.3rdwavemusic.org #3rdWaveinfoGetting a @3rdWaveMusic CD means you're supporting @IWINcampaign & bettering the lives of those in Africa! http://bit.ly/awhg9A #3rdWaveinfo
The @3rdWaveMusic team wants to thank their supporters - YOU! Check out the incredible prizes! http://bit.ly/bZKzQq #3rdWaveinfo
The @3rdWaveMusic CD would make a great stocking stuffer for X'mas! Order in bulk for friends! http://www.3rdwavemusic.org #3rdWaveinfo
Wanna get @3rdWaveMusic's Looking for the Day alt ver? FREE download here! Listen to album song previews! http://bit.ly/bKiC5C #3rdWaveinfo
Pls support @3rdWaveMusic in prayer as X'mas sale launches on 11/15! We want to bless everyone thru this! http://bit.ly/awhg9A #3rdWaveinfo
Wanna show @3rdWaveMusic some love? Wear the #twibbon! Such a simple thing & maybe ppl will ask u abt 3WM! http://twb.ly/aQDLKs #3rdWaveinfo
Check out the @3rdWaveMusic vid w/ @Brianjoomuzik @VanNessVanWu & listen to what's on their heart! http://youtu.be/RX5_6i8i924 #3rdWaveinfo
Proceeds from @3rdWaveMusic go towards @IWINcampaign. "Like" the Facebook page & show your support! http://on.fb.me/9sbzlD #3rdWaveinfo
Ever @3rdWaveMusic CD comes with this FREE mini poster during the X'mas sale! Don't miss out!! http://on.fb.me/acSryz #3rdWaveinfo
If you know ppl who can't use Twitter/Facebook, refer them to @3rdWaveMusic's iLike for updates! http://bit.ly/9vUwnf #3rdWaveinfo
Have you "Liked" @3rdWaveMusic on Facebook? Post comments & share your thoughts! It means a lot!! http://bit.ly/awhg9A #3rdWaveinfo
3rdwave admins are @brianjoo110, @siwonlover, @welovechoisiwon @welovewonhae
--special for indonesian fans, if u want to buy this CD, but have no paypal account, u can buy thru me, Eunice @Siwonlover, send email to ynkadr@gmail.com


let's share this article on twitter :) Tweet