Nowadays, it's quite difficult to find a drama without an idol star in it. Thus a new term was coined: 'actingdol'. Of course, idol stars are a good way to bring in decent ratings. However, these idols also are closely scrutinized and criticized for their lack of acting ability.
Sports Seoul gathered 3 Content Producers from the major broadcast channels in addition to various film industry representatives to determine which 'actingdols' were the best, according to acting ability, potential growth, and drama ratings. The males who came out on top were Lee Seung Gi and Micky Yoochun. Out of the females, Nam Gyuri did the best.
Lee Seung Gi and Micky Yoochun – Acting Ability. Box-Office hit. 1st and 2nd Place.
Through SBS 'My Girlfriend is a Gumiho', Lee Seung Gi came out on top and got the highest rating for acting ability (4.2/5) . Yoochun's debut drama was KBS2 'Sungkyunkwan Scandal', where he managed a rating of '4′ for his first attempt at acting. Also, SBS 'You're Beautiful''s Lee Hongki (FT Island) received a rating of 3.4 while SBS 'Oh My Lady''s Choi Siwon (Super Junior) received a 3.2 rating. Nam Gyuri was rated 3.4 for her role in SBS 'Life is Beautiful'.
KBS CP Moon Bohyun, stated, "I like Micky Yoochun because he's not a regular flower boy. Although he lacks in acting experience, one can still see his charisma as an actor."
Across the board most of the people rated high for potential growth, but the opposite was true for Tara's Jiyeon and Kim Hyun Joong. For MBC 'Playful Kiss' Kim Hyun Joong received a mark of 4 in the category for drama ratings. However for potential growth he ranked behind both Choi Siwon and Nam Gyuri, with a 3.4 mark. Jiyeon placed the highest for drama ratings but the lowest for potential growth (2.7).
SBS CP Choi Moonseok commented, "Although I'm not sure about supporting roles, out of the current 'actingdols', there isn't anyone with enough potential to become a leading lady. Performing on stage and being pretty is extremely different from being a good actress."
Who do you think the best 'actingdols' are?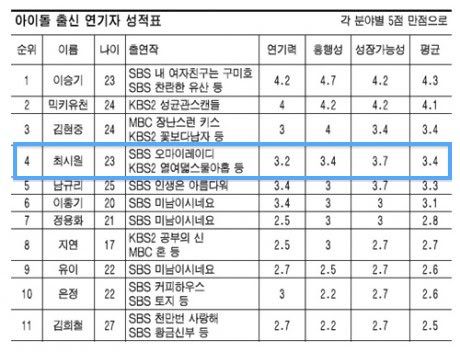 Source + Images: Sports Seoul
Image edited by: myhaeverything @ sapphirepearls.com
Taken from: allkpop
Please take out with full credits
let's share this article on twitter :)
Tweet