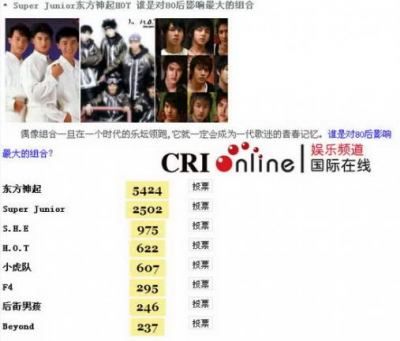 Once idol groups lead the music industry in their generation, they will always become a part of the fond youthful memories of fans. From The Beatles to The Little Tigers, every generation will have their own idols, so which group influences people born in the 80′s the most?
Through the international online entertainment channel's related survey's, the group at the number one spot is still Korea's representative idol group – TVXQ. Not being affected by the members' dispute with their management company, TVXQ's popularity is still as explosive as ever.
Super Junior follows in the 2nd place, so did Hankyung's withdrawal from SJ make an impact on the ranking? The classic group of Super Junior will always be in the memories of everyone around.
Taiwan girl group S.H.E took 3rd place. Having been in the industry for 10 years, anyone would be able to hum at least a few lines of their songs.
Next in line is H.O.T. Although they have disbanded for a few years already, the impact that they had on everybody is still fresh in our minds.
Source: HERE
Translation: Supernike911@tohosomnia.net
Shared by: tohosomnia.net
Thanks to 2s1family (ShawolELF@twitter)
let's share this article on twitter :)
Tweet