what can i say abt this .. except.. dream come true =)
do u remember guys, month a go, i ever tweet that my friend went to Korea , she came up to Super Junior dorm !!.
ok, let me tell u a little abt this exciting experience in her life =)
My friend came up to their dorm, just thought wanna put his sign on their dorm's wall .. as fans around the world does .. so many scratches & fansign on wall.!! crowded!!
i think it'd no space anymore for me =DD
ok, then my friend just stood there and put her sign on the wall.. she was fully hoping so bad to meet them ...
then suddenly she heard someone open the door.. GUess who!!
kkk it's not SJ members =)
but their manager..
Manager : hi,, r u alone? -in Han-Geoul
my friend : sorry, i cant speak korean
Manager : oh! where do u come from ?
my friend answer it, and manager felt so moved to do this.. He went into the dorm for a minute, then came out and offered this amazing moments :D
Manager : do u wanna come in ? Today they have no schedule
it's the day after their final stage performing No Other =) its in July 2010. it's monday.
She felt like frozen for a seconds.. then *bouncing inside her =D
taking breath so deep and move her body =
)
She went into their dorm !!!!!
who do u think she saw ??
All members were there !!!!!!!!!!!!
My goodnesss
i (Eunice) felt so surprised abt this!! happy for her!! really envy anyway!! cant explain more kkkkk
manager call Leeteuk to see who is come in ..
Leeteuk with excessive welcome her loudly & greet her =) lovely leader indeed.
Leeteuk called all members to welcome her.
'Hey come see, who's with us now! "
She told, They were so friendly!!! almost forgot that they are famous idols!! They treated me well.. smile to me,,.. welcomed me as a princess kkk
They asked her so many questions, if she is still a student.. with whom she came to korea, and so on =)
as usual, they ask this
-i forgot who's the one she told me-
'Who is your most fave among us ?"
Their eyes really looked for the answer .. wondering who will b chosen kkkk
my friend : Ryeowook !
dang!! the others were faint kkk
also they are fully playing men kkkk
'Who;s more handsome? Kyuhyun or Ryeowook? "
my friend : hehehehe Kyuhyun =)
Sungmin was so silent but smile on her =)
once, Yesung came near to her after for minutes went downstair .. Yesung brought his pet , a turtle .. 'Take a look this'
my friend screamed spontaneously .. 'i dont like it..!!" then move back her body =p
Siwon came near stood between her & Yesung then said to Yesung 'take it away hyung, she doesnt like it'
just came a cross in mind, absolutely like a body guard as Siwon said in Full House =D so lovely
anyhow they also hv chat session =)
Siwon : what's your belief ?
my friend : i'm christian
Leeteuk : what do u mean Siwon-shi ? wanna invite her to church ?
Siwon smile =)
LOL
Heechul : tell me, what are fans doing out there?
my friend : made blogs for you guys
Kyuhyun : is there any blog for me that built by your friend ?
my friend : yes there is =)
Heechul : how abt me? is there any ?
my friend :
-after thinking for a while-
i dont have friend make a blog for u oppa
Heechul : WHATT ???
LOL his expression was countless.. really shocked...
Heechul : can not believe it !!! How come ??!!
LOL
my friend : i hv a friend who made big blog in my languange..
all : and her fave ???
my friend : it's Shindong
Heechul : WHATTTTTTTT
leeteuk : WHAATTTTTT
ROFL
all were shocked
and Shindong's face show that maybe he was missed-hearing .. didnt believe as well.. so innocent kkkkkk
kkkkkk
she told,
Donghae is so charming. Handsome. really like a prince . and have beautiful smile.
Siwon is most amazing among members. His body is biggest . built well =) tall! so handsome!! so shining ! can not b denied !! Siwon is so charming & hv gentle smile. Very kindness & most talkative because he speaks english well. Guard her from yesung's pet =) and Eunhyuk's gifts that was nonsense =)
and there was something that she told me abt Siwon . she felt kinda great aura that is around & in Siwon. Siwon has great charisma.
Leeteuk is completely omma for members =) welcomed her too much =) always smile..
Whenever Heechul speak, it sounds so funny...
Kyuhyun's style is really like a boss kekekekekeke
you say he is evil magnae,right =)
Kyuhyun is handsome as well =)
Shindong is a big man =) kkkk
Even they make cute mathematic contest between my friend and them LOL
They were so fully enthusiasm whenever my friend talk.. and once when SJ were so noisy..bluster each other,& have fun in Han-geoul,my friend blurpted in her language..
then
all members : What did u say ?? what's that?? teach us how to speak that !
ROFL
all were really funny when they tried to followed she talk in her language =)
one message that kept in my mind
SJ : is blogging too hard? take your time a lot?
But finally they said this message : Keep blogging ' !
ROFL
Ryeowook gave her KRY ticket concert in Japan. and my goodness, she came to that concert !!
and hv privilege to meet them again at backstage.
After KRY concert, she came to back stage & meet KRY , Donghae & Sungmin as well
Ryeowook & Donghae hugged her so tight
my friend really feel so touched
Donghae looked like teary on eyes..
They are really grateful for fans love &; fans support
What a lovely Super Junior =)
Both in 'dorm visit' time (less than a hour but unforgetable) & after KRY concert, they said thanks in many ways and said that many many times to my friend
Really thank you because you come for us.
Take care & b careful in your way back home
and one that make me so happy is this below
-so pity,, the 'siwonlover' letter is written down by my friend.
to help Siwon from miss-spelling kkk. Siwon left it empty to b filled by my friend kkk
i (eunice) am sooo happy for siwon's sign ... whoaaaa *bounce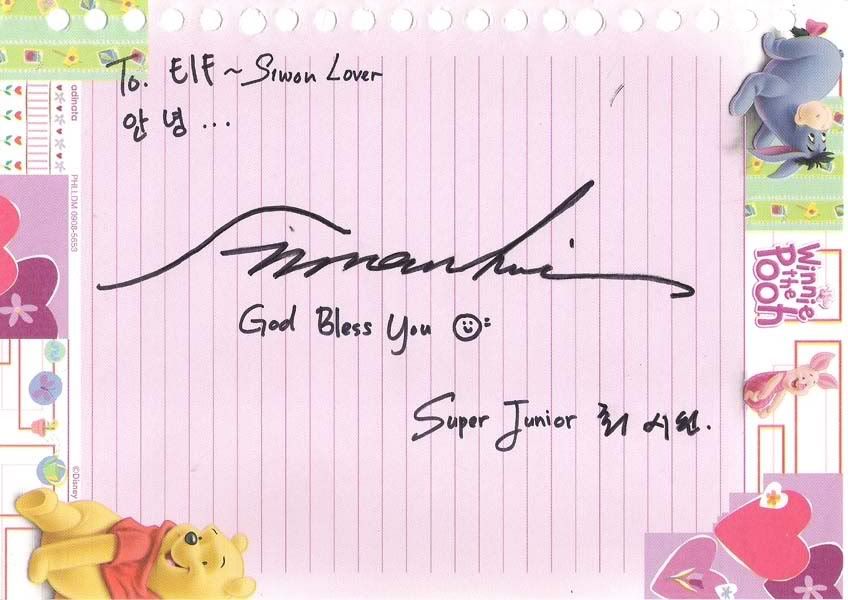 *i didt type her name for her safe.
if u wanna take this out, pls b consider to credit http://siwonlover.blogspot.com
let's share this article on twitter :)
Tweet