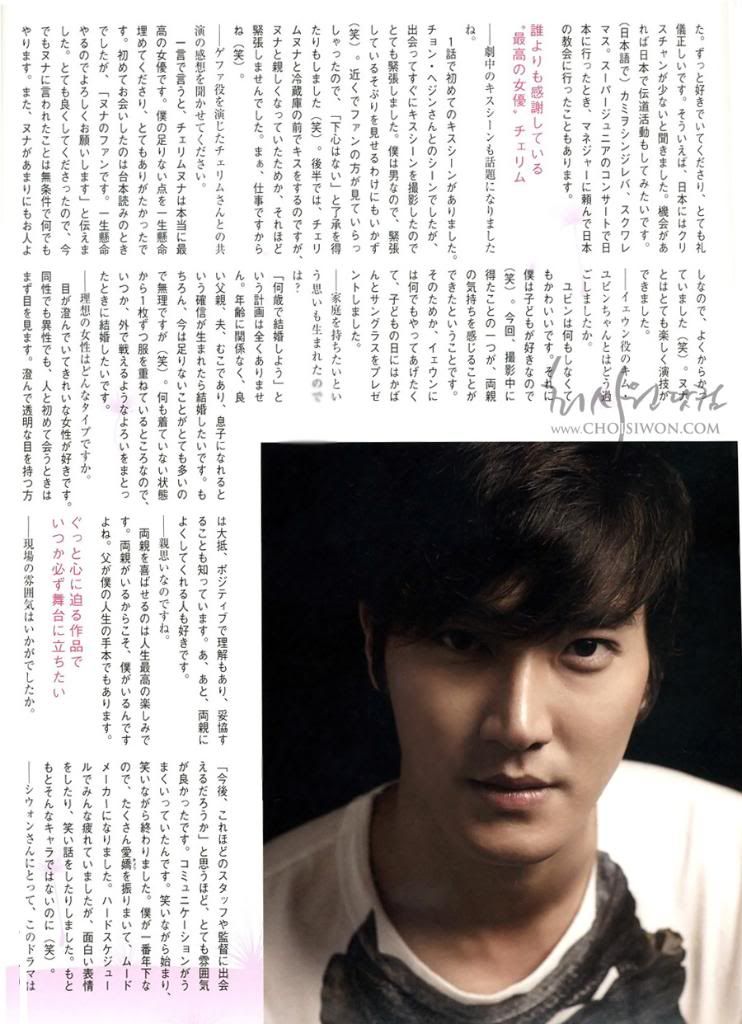 Q :Kissing scenes in Oh My Lady was hot topic ..
SW : Opening scene in Episode 1, I had to kiss (actress' name) and I was nervous because I had met her first time. But being a man, I could not show my anxiety.(laughed) Luckily there were fans present and I proved that I had no 'other' intentions towards her. Then that scene of kissing Chaerim noona in front of the refrigerator. Because I got to know her quite well, so I was not nervous..keke..it was work..(laughed)
Q : Have you thought of starting a family ?
SW: Have not considered when (at what age) should I marry. Nothing to do with age. When I have the confidence to be a good father, good husband, good son-in law, good son..then I would marry.
Q : In drama, you bared upper body?
SW: In the script..'chocolate abs' was listed. So I had to exercise. Once filming started, there was no time to do it. Therefore the scenes of my 'abs' were shot beforehand, in early stage. Where I stripped off my shirt in 5th episode, I sacrificed sleep to exercise. In 2 weeks I lost 8 to 9 kilos. But losing weight too fast, I also gained back immediately.
Q : Shooting drama and SJ activities, very busy ?
SW: Straight filming for 48 days without a day of rest. Towards the end of drama, I was also working on the album, dance practise, album recording, MV and cover shoot of album. Slept for only one hour and then had to rehearse dancing. Two nights of MV making without sleep (laughed). At the same time, I had to prepare for the stage performances in the drama. And I contracted throat inflammation, but no time to go to hospital. After the drama ended, only then did I undergo surgery.
Q : Does Siwon the idol and 'Min woo' differ a lot?
SW: If my having a lover (girlfriend) is exposed by the media, I think I will reveal. Because I have the confidence to say "No need to hide my love". I do not have to hide it because my fans understand me.
Q : Because you are not concerned about fans' reactions ?
SW: I am not sure about fans of SJ, my own fans will understand me. Because they are all honest people. (laughed) In SJ, only my fans and Shindong's fans..at airport or during activities, even our hyung managers do not block us. The fans do not surge (rush) towards us. It's like some obstacle..they will keep a distance.
Q :Your impressions of Japanese fans ?
SW: Personally I pay a lot of attention to Japanese culture. Because I grew up reading manga and watching dramas. Japanese fans tend to hide their emotions, will not express unconditionally. In the beginning, I thought, "Not interested in me?" However, those stuff that even SJ members do not know about, the fans can remember long forgotten issues. Amazing. They like me for being so courteous. Touching on this topic, I heard there are not many Christians in Japan. Given a chance, I'd like to organise a Christian activity in Japan. During SJ's Japanese concert, hyung manager even took me to a church.
Q : Your feelings on working with Chaerim?
SW: Chaerim noona is really the greatest actress. Always compensating for my incompetence. Truly fortunate.
Q : How did you get along with child actress Yubin who played Ye-eun ?
SW: Even just sitting still, she's so adorable. And I like children (laughed) This time round in filming, what I gained the most was to understand the feelings of parents. As such, I wished to do something for Ye-eun. On Children's Day..that day I gave Yu-bin a school bag and sunglasses as gifts.
Q : Ideal girl ?
SW : I like a girl whose pretty looks are 'clear'. With ability to see probable crystal clear visions of other people, to see ahead and be understanding. To know how to compromise and also be good to parents. To make my parents happy is my biggest joy in life. Because there are my parents..then there is me. My father is my good role model.
Q : What was atmosphere during filming :
SW : I was thinking, "Will I be able to work with this kind of crew and director again ? Laughing at start and laughing at end of work. I was the youngest, acted 'aegyo' (cute) and made the atmosphere lively. Although the anxious tight schedules made us all tired, I made a funny face, cracked a joke to make everyone happy. In actual fact, I am not this type of person (laughed)
Q : As an actor, what roles would you like to challenge ?
SW: Not a policeman, prosecutor or a student..these are stereotyped roles. Would like those traumatic roles and such works.
Q : Any Siwon's opinions or ideas in the acting?
SW : In the drama..that scene, after deciding to abandon Ye-un, Min Woo returned to his room and was heavily troubled. I asked myself, "How to express (convey) Min Woo's inner turmoil so that viewers could understand him ? I thought of using Ye-un's doll to help out.However, Min Woo's personality was such that he could not possibly place Ye-eun's doll, clothes and school bag in his room. And then there was this taped recording of Ye-eun's performance in the kindagarten. Used this to convey Min Woo's troubled mind.
Q : First lead role..lots of attention, any pressure ?
SW: Pressure..huge pressure. It was extreme important period of time for SJ..and I was only one to return to drama acting, tremendous pressure for me. Luckily netizens, viewers and the press media came to watch..it was fortunate.
Magazine scans credit: HappyTalk WWW.CHOISIWON.COM
Translation credits:
Translated into Chinese from Japanese by hanahuahwa @Baidu.choisiwon
Translated from Chinese to English by Wendy at Soompi.com
If taking out, please keep credits intact. Do not add your own.
let's share this article on twitter :)
Tweet