Paulo Coelho Talks about a scene in Oh My Lady
Recently, popular novelist Paulo Coelho talked about a scene in Oh My Lady and posted it on his twitter. He talks about the scene where Sung Min Woo's manager tells his actor about mentioning Paulo Coelho in the recent interview he had on the drama.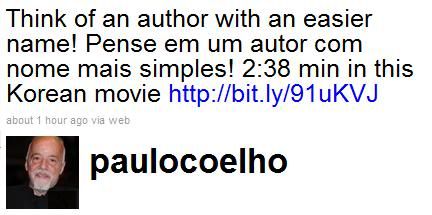 Think of an author with an easier name! Pense em um autor com nome mais simples! 2:38 min in this Korean movie
http://www.youtube.com/watch?v=ll28gnPeZok&feature=youtu.be&a
(link to Oh My Lady)
I was shocked about this, Paulo Coelho watching a Korean drama? That will be awesome. He may soon maybe Oppa Siwon's fan :))
Paulo Coelho (Portuguese pronunciation: [ˈpawlu kuˈeʎu]; born August 24, 1947) is a Brazilian lyricist and novelist.
cr :
http://twitter.com/paulocoelho
posted by Cassie
♥