Siwon sang Looking For the day. The fancam quality are still bad.
iceKyuream | August 14, 2010
CREDIT to blueberry@sj-world.net
iceKyuream | August 14, 2010
credit to blueberry@SJ-WORLD.net
watch many videos (all SJ members) here
http://icepluscoffee.wordpress.com/2010/08/14/pic-super-show-3-in-seoul-2010-08-14/
thanks Sarah ;)
Song list !
1. SORRY,SORRY (Concert Remix)
Opening in white suits
2. Super Girl (Korean version)
SuJu-M performance
3. 돈 돈! (Don't Don)
Heechul played drum
Jay and TRAX Jungmo and Heechul at the drums in the middle of Don't Don
4. 너 같은 사람 또 없어 (No Other)
Flying Leeteuk & Siwon .
leeteuk and siwon were lifted up by cables or something with sapphire blue ballons tied to their backs
5. Confession (Korean SuJu Ver.) * SJ-M's song
Self Introduction
Heechul introduce himself in French, Siwon in Spain, Kyuhyun is a pharaon, Yesung and Ryeowook indian native american, Leeteuk intro in Saudi arabia, Shindong in China, Ryeowook another arabic person LOL. And Leeteuk shouted "We are Super Junior o-e-o!!"
There was one member acted as Hangeng. Kyuhyun also said "I'm from England" (in English). Leeteuk imitated the missing 3 members (Kangin Kibum, Hange. Shindong acted as a chinaman. (maybe they're introduce themselves by doing a mini drama).
Kyuhyun and Donghae from England, Eunhyuk from Thailand, Leeteuk from Arab, Heechul from France.
6. 좋은 사람 (Good Person)
7. 로꾸거(Rokkugo)
SuJu-T performance.
8. Ryeowook – 봄날 (One Fine Spring Day)
Sungmin played guitar while Ryeowook sang "One FineSpring Day" He sang this song for an 8o-year-old ELF who had died
9. Kyuhyun – 내가 너의 곁에 잠시 살았다는 걸 I temporarily lived by your side
He sang with black suit
10. LeeTeuk, Sungmin – Fallin Out
Sungmin with 4 girls dancers on stage. He did a hot and sexy dance. The fans shocked.
11. Eunhyuk, Donghae – I wanna love you (self-make song)
with sexy girl
12. Siwon – Looking for the day
It's Christian contemporary Music genre. In the same album with 'The Sweetest Name' that will b sung by Siwon in coming album of 3rd wave music.
13. HeeChul – The way of Idol's breaking up (feat. Sulli)
14. Shindong – Champion (original by PSY)
15. Ddok ddok ddok (SJ-T)
SuJu-T performance. In this performance, Donghae replaced Kangin.
16. 둘이 (You & I)
17. 아주 먼 옛날 (Song For You)
18. TRAX – One night
19. Crazy in love/ Poker Face/ Single Lady
Beyonce – Single Ladies and Lady Gaga – Poker Face. Leeteuk wore laced tights and heels. Heechul as Lady Gaga wore wig and heels. Leeteuk with Shindong and Donghae imitated Lady Gaga. They wore skirt, red legging, high-heels. Eunhyuk also in skirt, red legging and high-heels in poker face. LOL I really want to see them!!
Ryeowook sang "Poker Face"
20. Shake it up (REMIX)
Hugged Each Other
Siwon hugged Leeteuk. Eunhyuk hugged Donghae.
21. TWINS (REMIX)
Smoked Bomb
Donghae has shocked by the smoke bomb
22. 미워 (Hate U, Love U)
23. 응결 (Coagulation)
Super Junior K.R.Y. performance
24. 잠들고 싶어 (In My Dream)
25. Rinaldo
26. 진심 (All My Heart)
Leeteuk duet with Henry
27. 너 아니면 안돼 (It has to be you)
when they left the stage, they showed his video of eunhyuk, siwon, ryeowook, and kyuhyun being famous and generally hot. eunhyuk was dancing in the middle of nowhere, siwon was being famous and photographed at a dinner party drinking wine and playing pool. kyuhyun was also being famous, he was being followed my photographers as he walked, looking all suave and cool. ryeowook was driving an audi, looking all busy as he got out of his car, and also, was photographed and acted famous. it was all very hot
28. 미인아 (BONAMANA) (Dance Ver.)
At around 21.51 pm (Korean time). Siwon wore vest and he open all of his vest button, showed his body. Fans sang along with Kyuhyun at Kyuhyun's "How to keep loving you" part.
29. 갈증 (A Man In Love) (Concert Remix)
30. U (REMIX)
31. Dancing Out (REMIX)
32. 요리왕 (Cooking Cooking!)
Donghae as Onion, Shindong as Mushroom, Ryeowook as Tomato, Yesung as Brocoli, Eunhyuk as Beansprout, Siwon as Carrot, Leeteuk as Cabbage, Heechul as Chilli, Kyuhyun as Strawberry and Sungmin as Pumpkin.
33. 차근 차근 (Way For Love)
34. You are the one
35. Wonder Boy
For the first time, Kyuhyun took off his shirt and Siwon carried him on Siwon's neck.
while singing wonderboy, some of the members had smoke machines. siwon kept spraying kyuhyun, so kyu started throwing towels at siwon
SJ's friends from celebrities supported SS3 on their twitter
@BoA_1105, @Khunnie0624, @onewaychance, @FtGtJH, @DrunkenTigerJK, @defconn1
SS3 Guests are:
BoA, Seven, Taeyang, Kara, Super Nova, 2PM, SNSD, SG Wannabe, SHINee, U-kiss, SNBlue ,MBLAQ, BEAST, Son Dambi and After School are attended SS3.
The stadium wasn't all that big, so the view of the stage was great. though u seat pretty far from stage,u still could see the entire stage, and could see where all the members were all the time.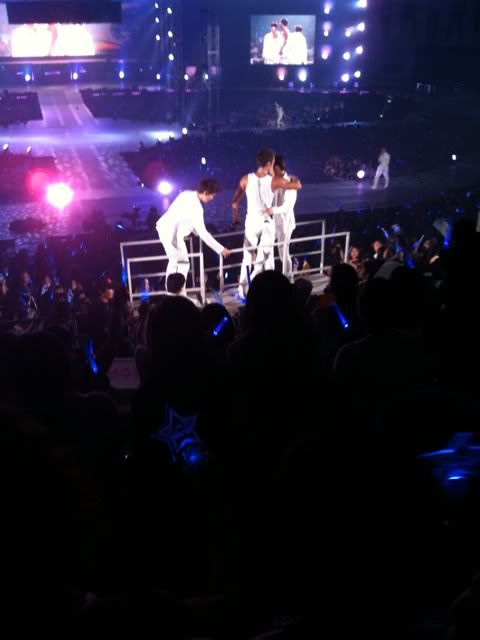 source : siwonlover's admin ( Novi), Sarah Jane of http://icepluscoffee.wordpress.com, http://evelineveline.wordpress.com ,weibo (via @DONGHAEisMINE),
http://may-face.tumblr.com, http://elfishina.wordpress.com
let's share this article on twitter :)
Tweet