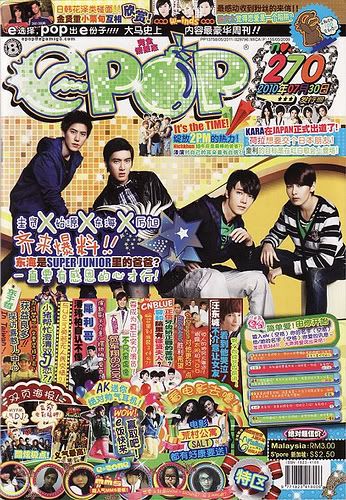 Epop: Your schedules are very tight, how do you take care of your body/ health?
SJ: We will exercise, or go to the gym to work out with friends!
Epop: Then Donghae, can you tell us where is your charm?
Donghae: Someone tell me once, that my eyes is full of charm. But truthfully, I felt that my eyes looked like it is full of sorrow/ sorrowful eyes.
Epop: You guys are really popular, even little kids love you all!
SJ: Haha.. Thanks to everyone for your support.
Epop: Actually, when do you have the thought of "I want to be a singer"?
SJ: When we are still young, we already have the dream of becoming a singer, actor, composer or gag-man. As Super Junior has many members, we are able to show off different types of charm to everyone. Besides on stage, we also is able to be funny/ comedic on variety shows, or acting. Perhaps it is through all these that we are able to let different age-group know us! And also Shindong hosted a kid program, this.. should be one of the reason why young children know us~ keke..
Epop: You guys are busy in different areas, then will there be time to practise dancing together?
SJ: Before we debut, we spend most of our time practising together, perhaps everyone will feel bored, but we felt in blissed because we have our dreams. Recently, everyone's schedule are very busy, but practise is a must, so we will gather together during early morning (like 1am, 2am) to practise together. The members that reached earlier will be in-charge of teaching the members that reached later. In order to show the perfect stage to everyone, we have to be like this!
Epop: In a poll previously, Leader Leeteuk gotten first for the "Best Leadership". In SJ, what kind of position/ post do you all hold?
SJ: Leeteuk hyung will listen to our suggestion well and not to demand or order us. As for other members… Hmm.. Sungmin is like a mother, because he will help us massage often, and when members are sick, he will take care of us well, and sometimes even aegyo! Haha.. As for the role of father, should be Donghae. Because he will listen to members' stories and troubles well, and is always worrying about us.
Epop: What post has you all be appointed before when you all are studying?
SJ: Hmm… Leeteuk hyung used to be the class monitor from 2nd grade to 6th grade. So he often said that the experience before has helped him alot now.
Epop: Super Junior has always been active in doing charity activities, even became the blood donation ambassador
SJ: Before debut, we used to help to distribute food to homeless people, we felt that this is what we ought to do. After debut, remember when Kyuhyun had his accident, some kind people donated blood to him, and hence we decided to give it back to the society, in order to show our gratitude, am really grateful/ thankful.
Epop: Have you feel that your popularity overseas is very high?
SJ: Haha… actually is really thankful to everyone that support us! Everytime when we go overseas, there will be many fans who welcome us. We will be starting our performances overseas soon (referring to Super Show 3), hope that everyone can support it well too!
Epop: In the end is there anything to tell everyone?
Siwon
: Thank you everyone for the continuous support, we will continue to work hard, showing the best of Super Junior to everyone, hope that everyone can continue to support us! Thank you.
Translated by: minoko2440 @ sapphirepearls.com
---
posted by Eunice