Yamaha & 12+ CF filming schedule in Thailand
Yamaha
related event:
Date: July 11-15, 2010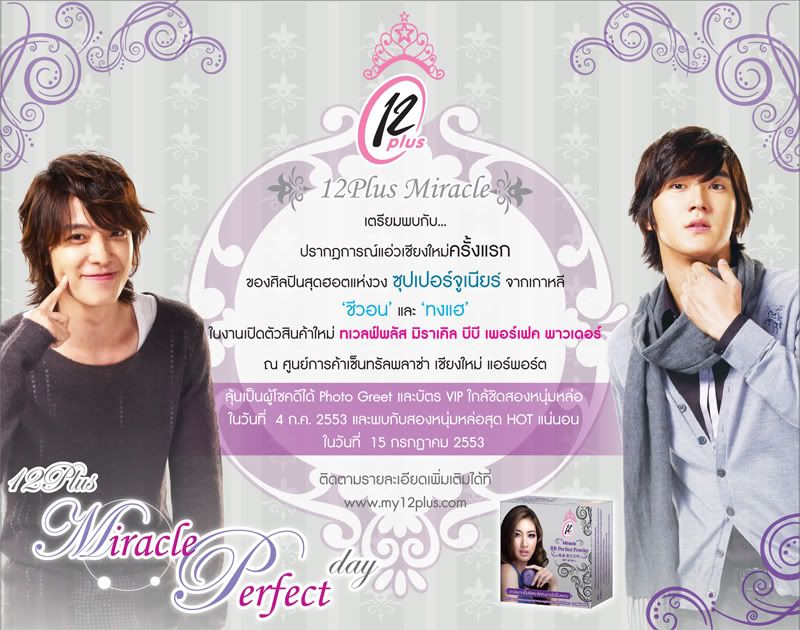 Pic Credits to my12plus.com, reuploaded by KIM@SJ-WORLD.NET
thanks to : venus02@soompi.com
12+
related event:
Date: July 16-18 , 2010
Flight details:
Seoul— Bangkok
Date: July 11 2010
Flight number: TG659.
Time: 09:35-13:25
Bangkok— Seoul (two separate flights)
Date: July 18th 2010
Flight number: TG656
Time: 23:30- 06:55
Note: All flights are still under 'booking' status, tickets are yet to be sold, hence there may be changes, especially for members who have more hectic schedules. If there are any changes, we would once again post updates.
Source: OnlyHae.com|Translation: bulletproof@ sj-world.net|thanks to kyuriee@13boys.wordpress.com
TAKE OUT WITH FULL CREDITS!
SM Town Live
According to SM, for 2 days, SM Town Live will be held starting with
Staples Center LA, USA, Japan, Tokyo, Shanghai and other major cities.
SM Entertainment will hold a large scale world tour.
SM Entertainment will hold the large scale joint performances at SM Town Live World Tour, starting the tour in Seoul on August 21st. The tour will be held in LA, Tokyo, Shanghai and other various Asian cities.
"SM Town Live 10 World Tour" is a large scale music festival that crosses over Asia to the world. The tour will feature Kangta, BoA, U-know Yoonho, Max Changmin, Super Junior, SNSD, SHINee, f(x), Trax and other artists that are associated with the company showcasing grand stages for 5 hours. SM Town Live Tour will especially feature joint stages between the singers which are expected to gather the interests of music fans.
SM Town Live has solidified its standing as the best concert in Asia in by leaving Asian cities including Seoul, Shanghai and Bangkok sizzling in 2008 tour. On this world tour, the largest number of artists to date will participate which is expected to garner the attention of music fans all over the world.
The Seoul concert which will start the world tour will be held on
August 21st 5 PM at Seoul Jamsil Olympic Stadium.
The U.S. concert will be held on
September 4th at LA Staples Center
and the Shanghai concert is expected to be held on
September 11th at Shanghai Hongqiao Stadium.
The ticket sales for the Seoul concert will start on July 15th at 8PM through G Market. On the 13th the pre-sales for fan clubs will start on the 13th which many are expecting to spark fierce ticket sales war.
Meanwhile, in this SM Town Live Concert, happy family seats are prepared for families to enjoy the concert as the tour was planned as the summer music festival for friends, significant others, and families to enjoy together.
Source: Sports Chosun
Translated by Minnie @ SUJUISM.BLOGSPOT.COM
TAKE OUT WITH THE FULL CREDITS
If you love this article then click or
COLLECT EVERYTHING ABOUT CHOI SI WON