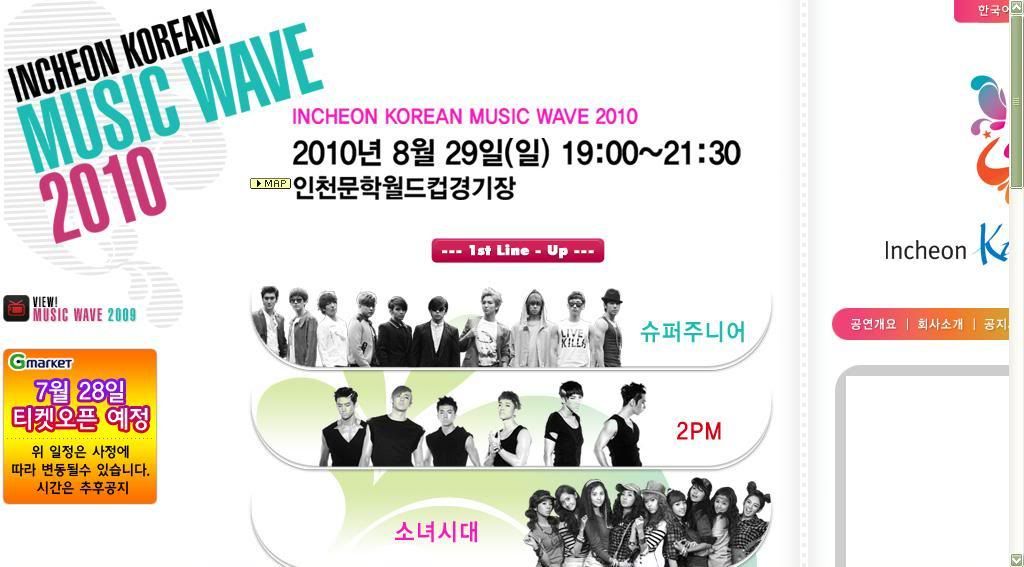 Incheon Korean Music Wave 2010
August 29th, 2010 19.00-21.30 KST
Incheon Munhak Worldcup Stadium
Ticket at G Market will open on July 28th,2010
official source :
http://www.koreanwavefestival.com/2010/
K-Pop singers will be gathered under the night sky of Incheon in a concert extravaganza for 50,000 fans.
After a successful first year, the Incheon Korean Music Wave 2010 returns for the second year running on August 29th at Incheon World Cup Stadium, hoping to entertain once again.
Confirmed artists include Super Junior, 2PM, SNSD, SG Wannabe, SHINee, U-Kiss, CNBLUE, MBLAQ, BEAST, Son Dambi and After School.
SuJuTV2 | July 06, 2010
100706 Super Junior @ 2010 Incheon Korean Music Wave
The organizers expressed, "We hope to make this a long-term annual event, with top stars coming to Incheon and encourage local and foreign fans to join us for the party. We want to make it be known as a representative K-pop music festival in Asia."
text : http://www.allkpop.com
If you love this article then click or
COLLECT EVERYTHING ABOUT CHOI SI WON