Today Siwon tweeted around 9 pm KST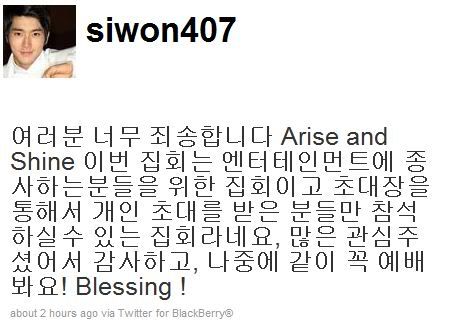 sadly, i cant translate it :( even when i try with google, it's still rough one.. it come like this :
Arise and Shine, you are so sorry that this congregation haneunbundeul engaged in entertainment and invitations for the meeting were invited through a personal bundeulman to attend the rally in LA, well, thank you a lot of attention given to Come, worship at a later time, as I look! Blessing!
i'll look for the correct one.. and will let u know, guys.. or pls , if any of u, understand hangul, u can share with me here.
If you love this article then click or
COLLECT EVERYTHING ABOUT CHOI SI WON