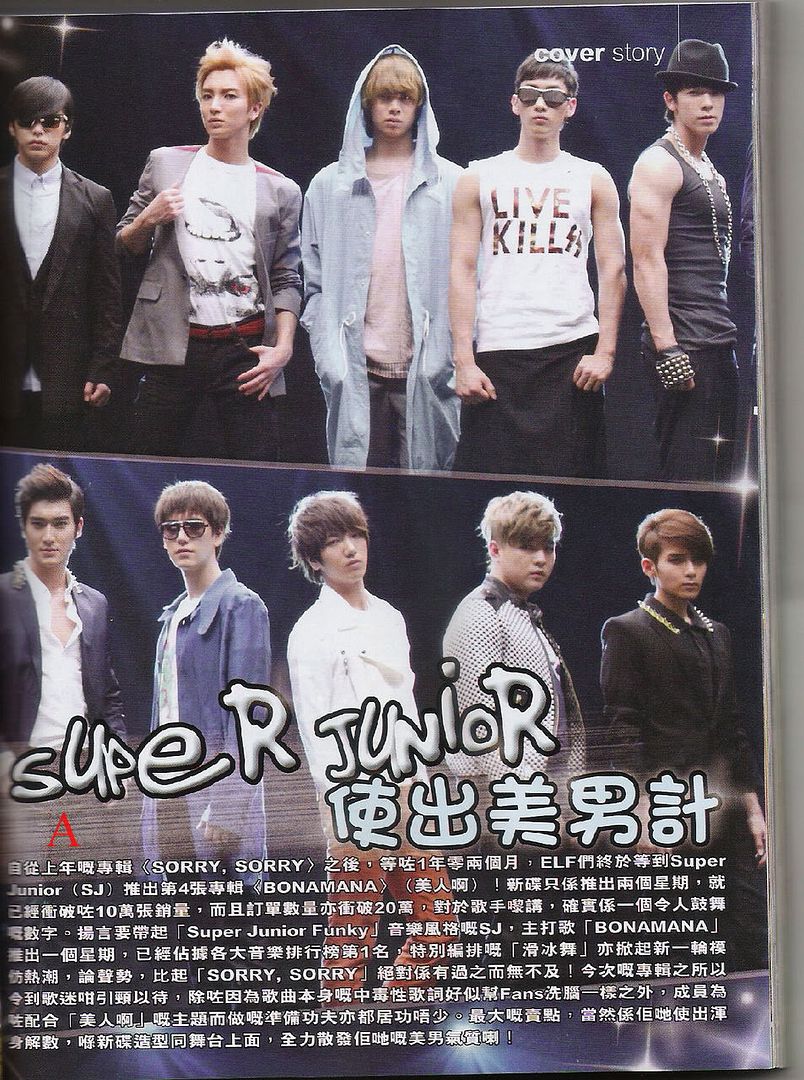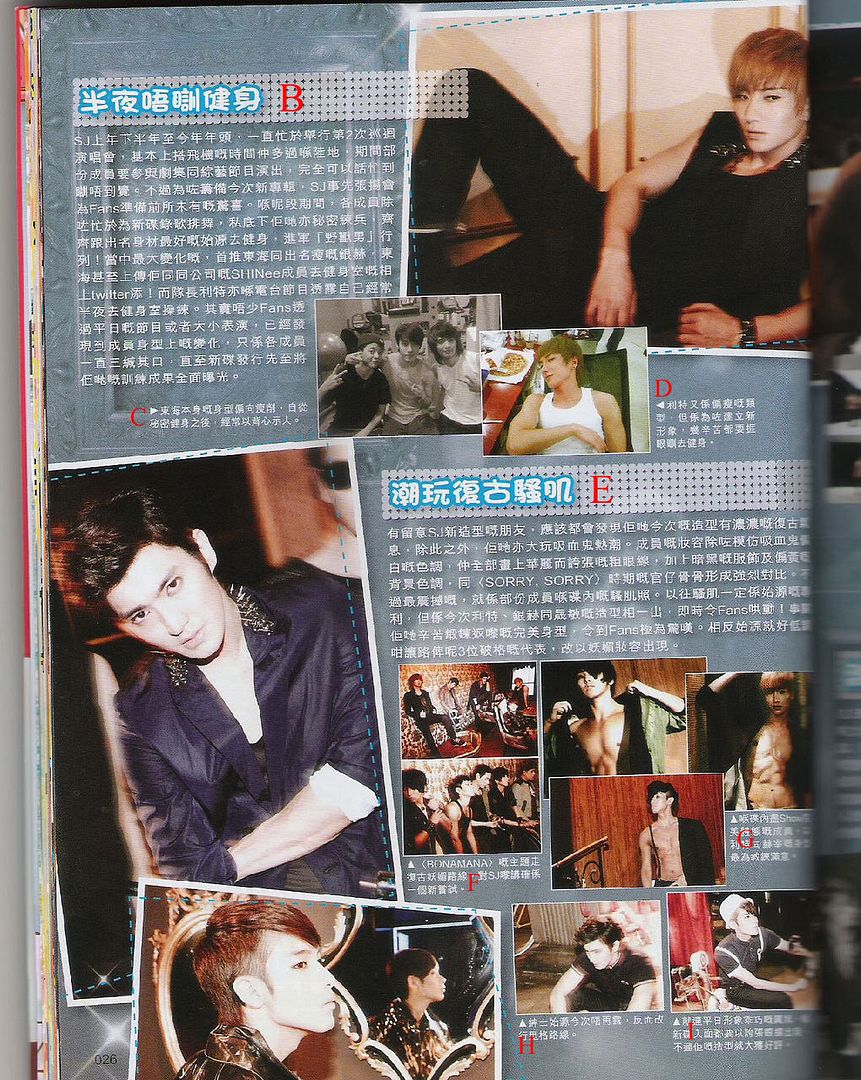 Super Junior interview in YES! Magazine No. 1002 Issue
A: Super Junior's (SJ) new album "Bonamana" is finally released! The new albums have only been released 2 weeks ago, but album sales have exceeded 100,000, in addition to the 200,000 copies of preordered album. For singers, this amount is worth celebrating for. Wanting to bring out the "Super Junior Funky" theme, the hit song "Bonamana" has only been released for 1 week and it has already reached number 1 on many music charts. The special "skating" choreography created a new trend, not losing out to "Sorry Sorry". The reason why this album is awaited by many is because the lyrics are like drugs* and all the members have been specially training hard just for 'Bonamana". The biggest selling point is that all of them appeared with new styles, totally showing off the manliness in them.
*addictive
B: Training at midnight
From the last half of 2009 to the start of 2010, SJ have been busy preparing for their Super Show 2 Asia Tour concert. Basically, the time spent on the plane is more than the time spent on land. Amidst this, the members need to attend various musicals or variety programmes, you can totally say that they are extremely busy. While preparing for their 4th album, SJ told fans beforehand that they will be giving everyone a surprise. Because the members are busy recording and practicing the dance, they formed an "army", following Siwon, the one famous for his chocolate abs, to go for work out sessions so that they can be categorized as "Beastly men"! Among them, the one with most changes is Donghae and the skinny Eunhyuk. Donghae even uploaded a photo of him with fellow company's SHINee member at the gym on twitter! As for leader Leeteuk, he revealed on his radio show that he often goes to the gym in the middle of the night. Actually, fans more or less could sense the change in body shape of the members even before the release of 4th album through watching variety shows and performances/ concerts.
C: Donghae was quite skinny before, but ever since he worked out, he often takes pictures of himself in singlets.
D: Leeteuk was also the skinny type, but because of creating a good image, he needs to sleep well so that he will have the energy to work out.
E: The trend of having a little oldish style* and showing muscles
Those who have been noticing about SJ's new style would have realized that the style this time has lots of revealing of muscles and abs. Besides that, there is the vampire style too. The make-up of the members looks like a Vampire's, having a pale complexion and thick dark eyeliners, compiled with dark coloured clothes and a whitish-yellow backdrop. It is totally different from Sorry's style. But the most surprising thing is that there are a lot of photos revealing the member's abs. Previously, abs would be linked to Siwon. But this time, once Leeteuk's, Eunhyuk's and Sungmin's abs were revealed, the fans reacted greatly! The hardwork of training and working out for a perfect body made fans shocked. In contrast, Siwon was more "conservative" now, letting the previous mentioned 3 present themselves with a manly image.
*I'm guessing it's referring to the cover photo on 4th album ver A, it has a little ancient feel to it, maybe because of the colours.
F: The style in "Bonamana" is ancient and beastly mixed together, definitely a new experience for SJ.
G: In the album, there is book which has many good photos of the members. Among them is Leeteuk's half-naked photo which everyone was satisfied with.
H: Gentleman Siwon did not reveal anything and instead adopted another style in this album.
I: Even the usual good boy image Ryeowook appeared with exaggerated eyeliner, receiving lots of compliments from everyone.
Image and video hosting by TinyPic
J: More beautiful than a beauty
It was said before that more and more Korean idols are having twitter accounts, and their updates are quite frequent, even more than Hong Kong stars*. Since Shindong started having twitter, he quickly influenced the other members, and the one being most loyal in updating pictures is none other than the beautiful representative of SJ – Heechul! Everytime he goes for music programmes, he would take pictures with female celebrities from the same company, and tweet them on twitter. Besides shocking people with these pictures, beautiful person Heechul even compete with others for the title of "beauty". There was even a neitizen who commented "Heechul who is prettier than female celebrities", complimenting Heechul's looks.
*The writer compared them to Hong Kong stars because this is a Hong Kong magazine.
K: Although Ryeowook has pretty looks like Heechul, when it comes to being cute, he's definitely better than the other female celebrities!
L: Heechul frequently tweets pictures of him with the members of f(x), making people laugh at their similarities.
M: Even when beside the Sungmin who has make up and is famous for his agyeo, Heechul still has that "beauty" aura around him.
N: Couple relations cause people to think further*
Those who are into kpop would most probably know those Korean male idol groups always have pairings (also known as couple), and due to the large number of members in SJ, the number of pairings is definitely more than other idol groups. For SJ, the pairings which are most popular are Kangteuk, Hanchul, Eunhae, Yewook, Kyumin and Sibum**. Because Hangeng, Kangin and Kibum are unable to attend 4jib promotions, so the attention of the pairings mostly concentrated on Eunhae. To satisfy fans, after the new album have been released, they tweeted "loving" pictures of both of them together, causing fans to think that both of them are more than just ordinary friends.
*As in…. think that the two people have more than just a friend relationship. By this, I mean BEST FRIENDS. (-:
O: Eunhyuk and Donghae's relationship is like brothers and like lovers, these kind of pairings can only be found in Japanese and Korean idol groups.
P: Because of the support by the company, there's an Eunhae photo included in the album (Ver B).
Q: Fan meeting – everyone were crying
There were many ups and downs for SJ in 2009. Although "Sorry Sorry" was successful all over asia, Kangin and Hangeng's cases cause depression among the members of SJ. Currently, to facilitate the promotion of 4jib, 2 fan meetings were conducted together with Korea fans as a thank you gift for the loyal fans. During the fan meeting, the members gave exciting performances, and played games with the fans. However, when Kangin appeared on the fan meeting halfway, the happy and playful mood changed 180 º. When Kangin announced that he will be entering the army in July, all the fans present became very sad and down, and cries could be heard too. Seeing the fans being so reluctant to let him go, Kangin could not help but shed tears. The other members also started crying; Heechul even wanted to go backstage to hide. Although a few members could not participate in the promotions of Bonamana, the fans still love SJ very deeply, believing that every member can sense the love from them.
R: The Kangin who hasn't shown his face in public for a long time has become a little rounder, but even so, his appearance alone is enough to cause fans to feel touched.
S: Kangin is not able to join the group in promoting their newest album. However, he was able to join the rest during the fan meeting which was a rare opportunity, and the members were thus filled with emotions.
T: Venturing into overseas market in the later half of 2010?
Relying on "Bonamana" to gain glory, SJ will be attending the Shanghai World Expo on 30th May. There are also news that they'll be going to Singapore in June. Also, people have been saying that SJM members would be attending the "Golden Melody Awards" in June in Taiwan. Because Koreans pay a lot of attention to the World Cup, SJ helped Team Korea sing "Victory Korea" to cheer them on. I reckon that there will be a "football fever" in Korea when the World Cup draws nearer. In August, SJ-KRY, along with Donghae and Sungmin, would be going to Japan for a public concert. There are rumours that Super Show 3 is going to begin soon too. If this is true, 2010 would definitely belong to flower boys SJ!
Source: YES! Magazine No. 1002
Credits: 宝藍_欣
Translation by: MondayRomance@sj-world.net
If you love this article then click or
COLLECT EVERYTHING ABOUT CHOI SI WON