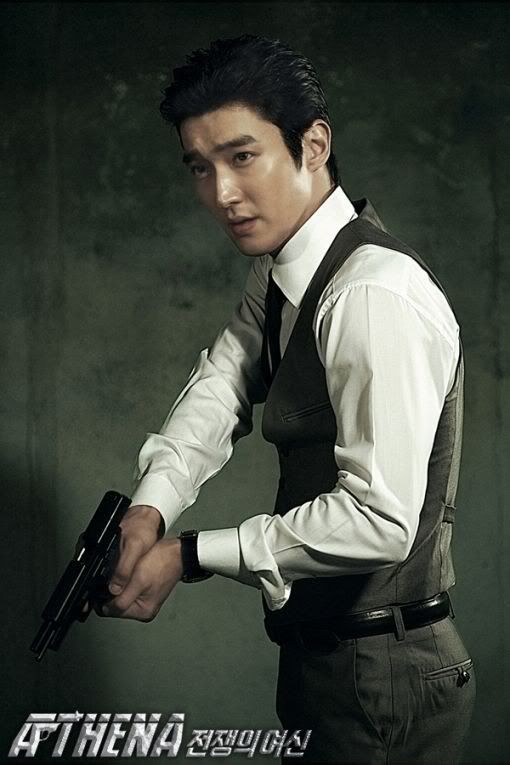 [INTERVIEW] Producer Chung Taewon - Part 1-3
Editor in Chief.Beck Una Editor.Lee Ji-Hye , Jang Kyung-Jin, Jessica Kim
Producer Chung Tae-won [Beck Una/10Asia]
... He is Chung Tae-won, the CEO of Taewon Entertainment.
Beck Una (interviewer)
...
Beck: There was a time when 'seasonal dramas' were talked about but many people were skeptical they would work in the Korean market. However, in the case of "Athena," it's connected to "IRIS" for sure but have different actors. How were you sure you would be able to continue the series with a different cast? Were you just that confident about the plan?
Chung: There are a lot of people who think "Athena" is "IRIS 2" but
"Athena" is a spin-off and "IRIS 2" will air on KBS next year
. With Lee Byung-hun and Kim Tae-hee. I can't say that their casting has been set for sure but no fool would pass on the chance with the advantages my cards can provide. So in the end, it's up to me. I need to prepare a set of cards that will make the show attractive enough for them to take on again. I've already written down how Hyun-joon (played by Lee Byung-hun) resurrects. (laugh) I told the actors and they liked it. There are three versions. The first, that Hyun-joon resurrects and leads a whole new 20 episodes and the second that Hyun-joon will appear in the beginning and a new character will take over midway with a new team. According to the third plan, Hyun-joon dies and a new intelligence team takes over the story.
I can't guarantee as of yet that the casting will stay the same but I can definitely make "IRIS 2."
Beck: So we can regard "Athena" as a start to a new series?
Chung: Like there's a New York and Las Vegas, there can be an NSS and NTS so
"Athena" will be about the NTS. So there will be some crossover characters from "IRIS."
For example, Jung Woo-sung in "Athens" could run into Kim Seung-woo from "IRIS" in front of the North Korean embassy in Switzerland and ask how President Cho Myung-ho is doing. And when "IRIS 2" is made next year, Jung Woo-sung could make an appearance in that too. But the thing is, one will be aired on KBS and the other on SBS. (laugh) In American TV series, crossovers usually occur when they are aired by the same broadcaster or made by the same production companies but in our case, the production company remains the same while the broadcaster will be different. I think it'll provide an interesting type of tension -- we're experimenting with different ways.
Beck: "IRIS" took over the Gwanghwamun Square in downtown Seoul for one of its shoots so I think viewers will expect to see even bigger and better in "Athena." You must be pressured by this.
Chung: Yes. But rather than that being a burden, I feel an even greater desire to try new things for "Athena."
The total budget for "IRIS" and "Athena" both stand at 20 billion won
but the success of "IRIS" has paved a way for us to invest less money in "Athena" but do more because we have many people saying they will support the production of the show this time. Our crew have been trained on the set of films so they have great fighting capabilities. When something needs to be done, nothing is impossible. They may think about what they need to do to make something happen but they will never ask for something else because the original plan can't be carried out. And of course, it's probably also because I go nuts and put on a fit when I don't like something. (laugh) Everyone is always improving because when I go on set, I give each and every team a hard time -- the props team, camera crew, lighting crew, CG team, arts direction team. Even just this morning, I had been watching season eight of "24" but everyone is watching American dramas these days, including myself, so I can't help my level of expectation heightening. Hence, the crew know I will keep demanding for better so they are always very nervous. We need to rework props to create something that has never been seen before but it makes all the difference the next time we do it. I'm the type that doesn't take no for an answer. I'll say, we don't have it? Make it. We have two art teams for "Athena" and have reinforced our props team. And I'm in the process of receiving the floor plan for the NTS set which looks amazing.
Beck Una: The scale of your overseas location shoots have become bigger too.
Chung Tae-won: Italy, Singapore, Japan, China... and we may go to New Zealand too. And we won't just shoot scenes for the beginning of the drama but we'll be going overseas midway too. We'll be filming more efficiently too because we've divided up the crew into three units. When team A is shooting in Italy, team B will be prepping in Singapore, while the last team will be in charge of doing the special effects and CG. There were several parts I realized I could shoot more effectively while making "IRIS" so I'm going to apply them as much as I can. And everything happened so quickly with "IRIS," there was no breathing space other than the scenes at the college in the first and second episodes, but there will be more humor in "Athena." I'll also have a lot of supporting actors positioned throughout the show.
Beck: When does "Athena" go into production?
Chung:
We'll start shooting in Korea in June, then in Singapore and northern Italian cities such as Rome and Venice in July, then we'll come back and go to Beijing around September and shoot in Japan after the tenth episode
. Like so, I think we'll be filming for about five months and
the show will go on air around November
. Viewers will keep guessing [about the show] and we should be able to go around such predictions so we can't have everything produced in advance. The moment our plan gets exposed, we will have to shoot that part again. I take the opinions of netizens into much consideration. Blogs too -- I sometimes get my ideas from them. (laugh)
...
Beck Una: You're well-known as being a producer who works closely with the actors. There are many actors who like you or you get along with and you run a management agency too.
Chung Tae-won: I always think of myself as their older brother. And that I should make the sacrifices for them first since I'm their older brother. But when I make new attempts, I expect them to engage in them for their faith in me rather than for the money. On the outside, Taewon [Entertainment] is perceived as a company which is overflowing with money but our organs are the only things that aren't held [as security]. (laugh) Every project is difficult in the beginning but the actors have always helped since they know their older brother is going to make a movie, not buy land, by making money. (laugh) Both "IRIS" and "Into Fire" are also productions which would have been difficult to make without that trust. When a movie doesn't do well, the actors are the first people I feel sorry for. I wheedled them into doing it but I would leave a scratch in their life due to that film. It remains a debt in my heart. And I want to do whatever I can to repay that debt. The nickname for our company is actually "Taewon Rehabilitation Facility." (laugh) I can't work with actors like Song Kang-ho because he's always on top of his game and has no flaws. I rather like it when actors are in a crisis and I can help them 'rehabilitate' after working with me. The actor I'm most looking forward to 'rehabilitating' is Kim Min-jong because I worked on "Butterfly" with him in the past but it hadn't done well. He plays a very important role in "Athena." He'll play a very funny North Korean agent who defects to South Korea.
Beck: "IRIS" is currently showing in Japan on TBS, right?
Chung: I love the fact that "IRIS" is being enjoyed not only by original Hallyu fans but the young generation since most Hallyu fans are getting older. (laugh) The Hallyu which started due to "Winter Sonata" was great but I think it's also the main cause behind the anti-Hallyu. The fans were mostly middle to old aged women so people started to dislike seeing their moms or wives immersed in Korean dramas. And most of these so-called "Hallyu dramas" were romantic so young people and middle-aged men disapproved of them. So I think the new point to the Hallyu trend these days is that people like Korean groups such as TVXQ, Big Bang and even girl groups. And "IRIS" is not a typical melodrama in that it moves on a much faster pace than the original fans of Hallyu are used to. TBS and our strategy too was not to target at Lee Byung-hun's original fans. Unlike past dramas which were targeted at the Hallyu, we left out the world 'Hallyu' on purpose and promoted it as if it were the average Japanese drama. We did not send out pictures which showed Hallyu fans crowded at airports. For us, it was most important that we attracted a younger fan base as well as male viewers. Was it 4.6 percent last week? TBS' satellite channel scored its highest rating to date. The fifth episode will air this Wednesday but I heard it's the first time [a foreign drama] has gotten into the nine o'clock prime time slot after an American drama got into the eight o'clock.
...
Beck: It won't be easy actualizing the cards you have already pulled out but are there any other cards that you are may be planning on pulling out?
Chung: I have a lot in mind right now but I think
I'll focus on "Athena" and "IRIS" for now
. I also want to gather my comedic family (laugh) which includes actors such as Shin Hyun-joon, Tak Jae-hoon and Kong Hyung-jin to create a drama like the "Sopranos." I would distribute the soft version on a public network while the hard version on cable and make a real action-comedy which has been upgraded in every aspect possible. They'd fight against the Yakuza's in Japan and Mafia from Italy. And we usually have a lot of fun on set so everyone has been begging we get started soon. But I have a couple productions I have to focus on for now so I'm going to sign on a scenarist first to get started on the script.
...
Editor in Chief : Beck Una one@ Editor : Jessica Kim jesskim@, Jang Kyung-Jin three@, Lee Ji-Hye seven@ <ⓒ10Asia All rights reserved> 10.asiae.co.kr
1 l 2 l 3
thanks to rubie
If you love this article then click or
COLLECT EVERYTHING ABOUT CHOI SI WON