Regarding whether Choi Siwon will be able to be a good father in SBS popular drama series "Oh, My Lady!" has lead to hot discussions from the audiences.
Choi Siwon act as a famous star Sung Minwoo in hit series "Oh, My Lady!" while Chae Rin act as blur aunty manager Yoon Gaehwa. During the recent broadcast of the drama, the famous star Sung Minwoo's life has been rather panicky after the appearance if his daughter Ye Eun. Audiences who have been keeping their eyes on this drama were not only focusing on Sung Minwoo's star style, they were also focusing on how Sung Minwoo is like after being a father.
As the plot changes, after lots of attempts made by the Yoon Gaehwa as she recorded a video of Ye Eun in Kindergarten for Minwoo to watch and to go to the zoo together. During the 11th episode shown on the 26th April, Minwoo folded papers for Ye Eun which shows that the relationship between the two characters is starting to have some essential changes.
In the drama, Minwoo has always been treating Ye Eun coldly. But in the actual shooting scene, the two were as close as father and daughter. Choi Siwon calls Yoobin(the child actress who is acting as Ye Eun) Ye Eun while Ye Eun calls Choi Siwon Minwoo appa. When they are together, they would often make some cute expressions in front of the camera. Siwon even let Yoobin ride on his neck to play. What's so special is how Siwon would give Yoobin some warm water to drink and clothes to wear when it's cold at the shooting scene, the reactions from the netizens were very strong as they expressed that it would be good if they had a father who is as caring as Siwon and how much they envy Yoobin, etc.
Relevant personnel has expressed that in the drama famous star Sung Minwoo who is sharp and critical will start to make some changes in his thinking and the way he cares for people after the appearance of his daughter Ye Eun. Choi Siwon has been making lots of efforts to communicate with Ye Eun in order to perform well in scenes which involves him and Ye Eun. It will be very interesting to guess how the father and daughter's relationship would change through the remaining episodes.
In "Oh, My Lady" episode 11, when scences where Minwoo used violence to save Gaehwa from harm, where he initiated to stretch his hand out for Ye Eun, and where he played squash with Yura were shown, audiences had more anticipation for the drama.
please copy ALL the below information when redistributing
Original article: Korean Star Daily
Chinese translation: 李恩智 @ Koreanstardaily.com
English translation: Marchocho @ TwELFs.com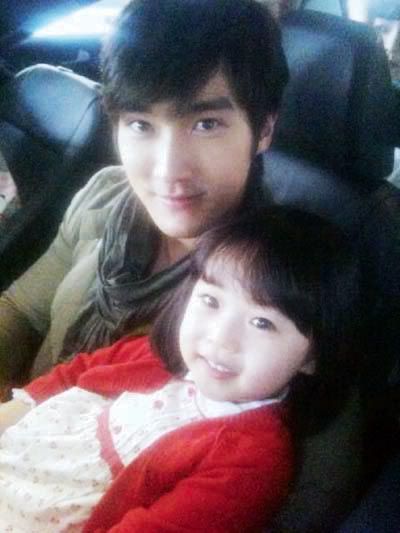 this is another reason, why i love Siwon. because his warm heart is pure.
And also Chae Rim, really credits him as a really good man and a hardworking man.Nice and also mature man.
If you love this article then click or
COLLECT EVERYTHING ABOUT CHOI SI WON