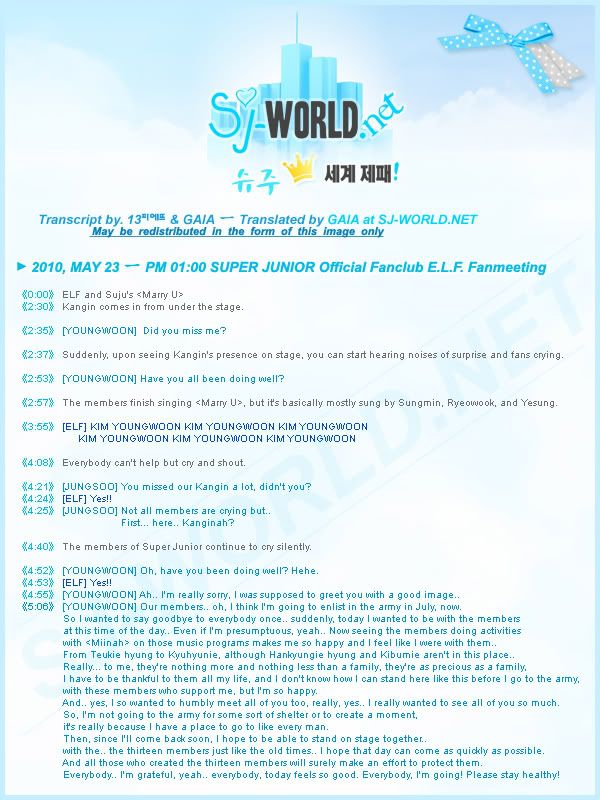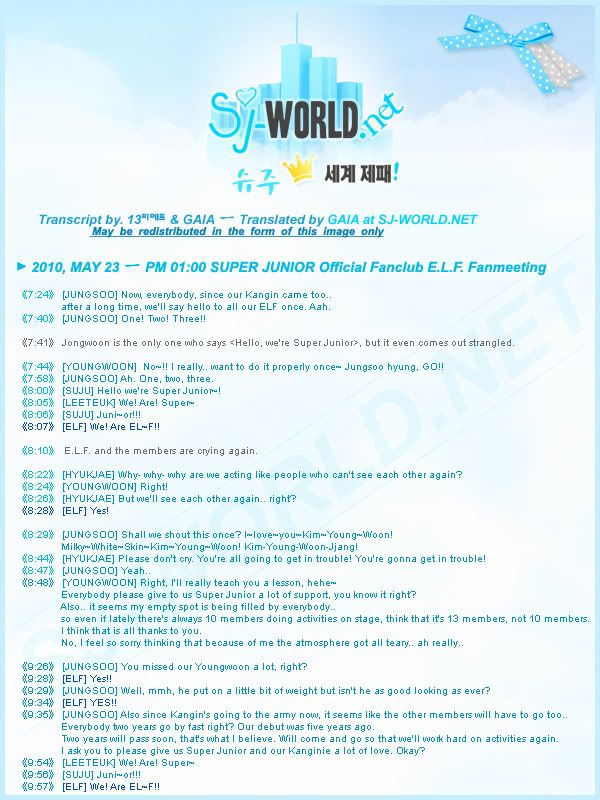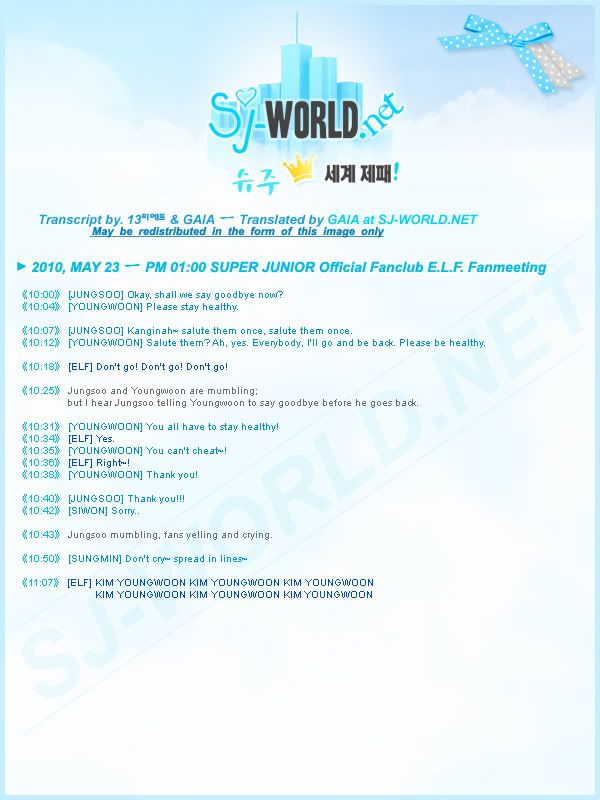 May be redistributed in the form of these images only
Transcript by. 13피에뜨 & GAIA ㅡ Translated by. Gaia at SJ-WORLD.NET
SETLIST.
나쁜 여자 (Boom boom)
미인아 (Bonamana)
Intros,
Talk and thanks with sm supporters (the SM officials helping ELF organisation at events)
Coagulation (KRY)
In my dream (KRY + Ming and Hae)
Heechul solo (ivy – temptation of sonata — rock version) w/ Ming (guitar) & Ryeo (keyboard)
Showing off personal possession with big memories ? XD
Watching old videos since their debut
Games with 5 fans picked randomly,
Yehsung solo (너 아니면 안돼 / It has to be you) ,
Marry U (Kangin at the end D: )
Talk and tears with Kangin
Dance battle
Chu,
좋은 사람 (good person)
Ending
Hand clap (high five with everyone)
The fanmeeting opened with a video of the boys' MV history. There was Twins, U, Don't Don, Sorry Sorry and Neorago. Then an introduction of the boys like in the Bonamana teaser, with them turning around.
The boys appeared on stage and performed Boom Boom. At the end, Hyukjae went 2pm style on us and tore his shirt to end up completely topless.
Then they went on directly with Bonamana, Hyukjae danced half the song half-naked then he put a jacket on (Jungsoo's style, still showing off his abs).
Then they all introduced themselves, Jungsoo was trying to speak but he was out of breath lol. Once they had all introduced themselves and had done the "we are super junio~r" with ELF following with "we are elf~~", Jungsoo also added "Hello I'm Kibum, hello I'm Hangeng, hello I'm Kangin" while laughing.
Then they brought the two main ELF – SM Supporters on stage. SM Supporters are the girls (and guys) who are coming to events like Music Bank, Music Core, Inkigayo, concerts etc. and help organise the line for fans to get in. They also help the fans with the banners at Dream Concert, etc. So they brought the 2 girls on stage to thank them for their years helping SJ and ELF. They asked them to say a few words but they seemed very shy and confused to be there (seems like they weren't told before xD), then they asked them to sing an SJ song, Sorry Sorry or Bonamana. The fans all started asking for Bonamana, so they tried but didn't make it more than a few words, too embarrassed xD; Then they did a group hug and Ryeowook brought them back backstage. Ryeowook was like, waving at the fans like he was leaving too lol.
After that it was time for KRY to sing Coagulation, then KRY+ Sungmin and Donghae sang 'In My Dream' (at first Donghae's mic wasn't working, so his first verse was soundless T.T). After that they explained that Kyuhyun wasn't well those days and that's why he had trouble singing ):
Then the concert hall becomes all dark and Sungmin appears from the rising platform in the middle of the stage with a electric guitar and does a (omg great D: )>
After that is the "personal object with lots of memories" tunalk. All the members come on stage, there's a table in the middle with lots of different random objects and Jungsoo is MCing. He asks ELF who each object belongs to.
First there's a pink motorbike helmet. Obviously it's Sungmin's.
Then there's a pillow with Hyukjae pictures on it. When Jungsoo asks, fans say it's Donghae's XD but no, it's Hyukjae's!! lol (not everything is about EunHae rofl). Then there's an (undone) rubicks cube, belonging to Shindong! (he will then proceed do it in just a few minutes ><). Then there's a mixed CD by a fan in Japanese that belongs to Yehsung, who explains it's a present from a Japanese fan he got around the time they debuted. Next is a picture of ELF pearl sapphire blue lightsticks at Super Show. It belongs to Donghae (fans guessed easily). Then there's ELF first generation fancard owned by Jungsoo. Then there's a clarinet! It belongs to Kyuhyun of course, and the members ask him to play a bit. He asks to do it at the end of the objects presentation, and for the rest of it he was practicing in the back XD super cute. The next objects were an S.E.S. CD (4th album) and an S.E.S. Fanclub member card XD Of course it was Ryeowook's. There was also the… (FREAKING HUGE) metallic rod (?) that used to be in Heechul's leg (he showed it on radio some time ago too). Omg it's so big it's scary. And finally there was Siwon's diary/planner. He said it was not interesting, Jungsoo managed to open to a page and started reading xD (lol when I saw the book at first I thought it was going to be a Bible -_-) It was really serious/sincere (But I didn't get it, so I can't really describe that part ><>
Then it was time for the speed quiz! They randomly picked 5 fans (by picking their seat number and brought them on stage with them). They all had to be paired with 2 SJ boys by teams, the first one was Japanese so she was automatically paired with Sungmin (he is such a cutie, so shy… he never come by himself to Japanese fans when there's any, it's always the other boys who push him to them D: ), size="4">Siwon so, those 2. Then the other girls are all Korean, one was with Heechul and Kyuhyun, one wass with Donghae and Hyukjae, one was with Jungsoo and Ryeowook, and finally Shindong and Yehsung.
They all had to guess words or expressions that were on the pieces of paper behind them, that they can't see, and all a different way. First as the Japanese girl doesn't speak Korean, she had to guess the words by mimes…. Siwon and Sungmin for example have to mime "Magnae on top" for her XDDD Magnae she got, but on top was just hilarious to mime and she didn't get it xD She got 2 in the end though, including 물고기 (fish) that they got while pointing at Donghae and miming swimming xD
Then Jungsoo and Ryeowook had to make their girl guess words by drawing them. Jungsoo only held the paper board and Ryeowook was drawing XDDD
Donghae and Eunhyuk had to make their fan guess proverbs lol, that was super hard
Heechul and Kyuhyun had to make the girl guess by speaking (original version of the game, kinda), they were really good xD
Finally, Shindong and Yehsung had to make the fan guess by speaking too, I didn't really get the rules for them, sorry >< style="font-size:130%;">Siwon and Sungmin's team lost, so Donghae and Hyukjae hit them with the plastic hammers rofl xD
Next, we all watched together an old VCR of them since debut. First performance of Twins (Yehsung:"I wasn't even there!!" Reference to the fact that he wasn't filmed at all during that performance lol), winning golden disks, winning first mutizen with U (they point out how Jungsoo is crying all the time… and Hyukjae is so ashamed of himself crying at U mutizen that he falls on his knees, hiding xD Ryeowook pats his back lol) For a long part of the video watching, Siwon had his arm wrapped around Jungsoo's shoulder, and was hugging him a couple of times. Siteuk >
Next, Yehsung sings his solo from Cinderella's sister OST "너 아니면 안돼" (It Has To Be You). OMG it was AWESOME >
Then it was time for Marry U… All the boys were standing around the stage, sometimes singing, but mostly not, letting ELF sing for them. Suddenly, I realise there's a 'hole' in the front stage, and little by little a head appears. There were rumors of him coming for the fanmeeting, so I personally knew already it was him, all the ELF became crazy as he appeared, and everyone broke into tears, fans, Youngwoon and all 10 other boys who walked over to him on the front stage.
First everyone was hugging, Youngwoon hugged all 10 of them one by one, fans were incoherent, everyone was yelling different things or just crying. All around me everyone was crying and sobbing, and I was no exception. Youngwoon gained some weight, (or maybe it was also his outfit that wasn't helping at all, so he was about his worst times with SJ or a bit more), he seemed really sad, his first sight at the sapphire blue sea made him look down again and shed tears. Then he started speaking about going to the army, wanting to come back as a better man in 2 years, etc. (check the news about it). For the entire time Heechul was by his side, holding his hand. I felt like this talk lasted very long but in the end maybe it didn't, Youngwoon ended up kneeling down in front of ELF and apologising, Jungsoo made us shout "saranghae Kim Youngwoon, KIM- YOUNG- OON!". ELF then started shouting "we will wait for you" or "don't go" However, after a while they all walked back backstage together.
New VCR for the dance battle, but everyone was still crying all around, and you could feel there was much less strength from ELF AND the boys during the dance. Especially Jungsoo, kept making mistakes and could barely follow the others.
Then Chu VCR and the usual 5 come on stage. Heechul seemed to have no motivation, he was looking down, following the rhythm of the song but not singing and do the bare minimum for the dance. When the song ended, he said sorry.
Then it was time for the last song "Good Person", Heechull didn't even show up on stage for this one, the other boys were running around between ELF Sections or being pushed by the staff on..rolling stuff xD (like in Super Show) around the higher sections. They were touching fan hands etc.
Finally all of them go back on stage and all said their last words of thanks to ELF and everyone, ELF shouted together "Don't cry" when Donghae was speaking. When Jungsoo was done (he went last), fans started shouting for Heechul. Jungsoo hadn't realised he wasn't there and started calling for him, so did some other members. As he wasn't coming out, Sungmin went backstage to get him. Once he had gone, ELF started shouting for Youngwoon's name as well. Sungmin came back with Heechul and Youngwoon, who had changed into a short pair of jeans and a black Nike sweater (he looked less chubby in this one than the previous outfit).
Heechul apologised again for leaving like this, and for making Chu look so sad at Sulli's parts. ELF shouted together "It's ok!". Then they talk a bit again with Youngwoon, but I wasn't listening because I was taking the pictures while trying not to be seen by the security T_T I needed my last picture of Youngwoon…
Everyone was crying again and after saying goodbye, they all left stage together. ELF were shouting "We will wait for 13 members"
After this they announce that SJ will have a special event before we leave the concert hall. We would all get to high five with them. Basically they make a long line of fans one after another, the boys are all standing behind a table with their hands raised and fans pass by quickly, touching their hands. The security was very tight and ready to make this event as short as possible, so they were pushing the fans out if they were staying a second too long with the boys. Sometimes some of them kept their hands raised but looked around, or made faces at the camera, etc.
I was told that after I left, Heechul left to go backstage for a while, he stopped doing the hi fives.
And this is how you do it with SJ
Credits to Alice (『SexyDino☆彡』) @ sj-world.net
Take out with full and proper credits
ABOUT FANMEETING AT 7PM
I was told by my friends (HoneyButter and yehrin) that they stopped the fanmeeting with Marry U for the 7pm fanmeeting. They only did Good person around the beginning and also removed Heechul solo. (so total, they removed heechul solo, dance battle and Chu, plus last ending as marry U talk was the end.) Also for the high five the boys were separated in two tables of 5 so it was going twice faster.
They announced that for the repackage album there will be a song (or more!) composed by the boys!
source : www.sup3rjunior.wordpress.com
Credit: 40lumiere, sunluvfish
If you love this article then click or
COLLECT EVERYTHING ABOUT CHOI SI WON