Ep. 6 preview from Baidu
http://cfile30.uf.tistory.com/media/16397F1D4BB9E8F9CA3211
Rating
TNS
http://www.tnms.tv/rating/main.asp?menu=Gi_Daily
Nationwide/Rank: 11.4%/14th
Seoul/Rank: 11.5%/12th
AGB
Nationwide: 11.6%
http://www3.newsen.com/news_view.php?uid=201004060650091001
watch online
http://www.viikii.net/channels/goto/OhMyLady#

dozen pictures
http://tomjone.xanga.com/724830861/oh-my-lady---ep05/
and watch via youku.com
ep 5 c-sub
http://www.sendspace.com/file/2kcygg
download
http://www.megaupload.com/?d=68ST4780
– HAN
Available on Clubbox
http://clubbox.co.kr/heamil/
Oh! My Lady - 05 [BOB] (100405) [676.8MB]
File renamed in clubbox to 오 마이 레이디
Available on Clubbox
http://clubbox.co.kr/aninara1004/
Oh! My Lady - 05 [HAN] (100405) [700.4MB]
File renamed in clubbox to 오 마이 레이디
---
semi-fly
@soompi---
Torrent Link Ep5 (HAN):
http://www.box.net/shared/hjdzxga87t
--cute girl@soompi thread--
http://rapidshare.com/files/372343281/_Angelk_Oh.My.Lady.E05.HDTV.XViD-HAN.avi.001
http://rapidshare.com/files/372367439/_Angelk_Oh.My.Lady.E05.HDTV.XViD-HAN.avi.002
http://rapidshare.com/files/372392220/_Angelk_Oh.My.Lady.E05.HDTV.XViD-HAN.avi.003
http://rapidshare.com/files/372415203/_Angelk_Oh.My.Lady.E05.HDTV.XViD-HAN.avi.004
turkey1982
MF Links
Episode: 5
version: Han
size: ~700MB
join w/ HJSplit
part1
part2
part3
part4
part5
part6
part7
part8
credit AM-Addiction
MU Link
Oh!My.Lady.E05.100405.HDTV.H264.720p-CEO
Oh!My.Lady.E05.100405.HDTV.X264.720p-HAN
recap
The episode continues with Min Woo getting angry with Kae Hwa over the DNA testing. Min Woo tells both Kae Hwa and Ye Eun to get out of his house. Min Woo thinks that Kae Hwa is doing it so she can blackmail him further. Kae Hwa tells Min Woo to accept the fact that Ye Eun is his daughter. Min Woo goes in to his room and looks at the test result again. The test result confirms that Ye Eun is more than 99% Min Woo's daughter. He doesn't want to believe it but the result stares at him.
The next morning Min Woo walks out of his room and sees Kae Hwa in the kitchen quietly making some food. Kae Hwa remembers that previously Min Woo told her not to be too noisy in the morning so she's making sure she's not making any loud noises. Min Woo doesn't' say anything and just leaves.
The next scene shows Kae Hwa trying to hail a taxi. She has Min Ji's packed lunch and wants to deliver it to her but she has no success getting a taxi. At this moment she sees Min Woo driving home from the health club. She stops Min Woo's car and asks Min Woo to drive her to her husband's house.
It so happens that the reporter that's been following Min Woo sees Kae Hwa and Min Woo inside Min Woo's car. The reporter, thinking he's caught Min Woo, decides to follow Min Woo.
Kae Hwa complains that Min Woo drives too timidly for a man. Min Woo responds by driving fast and swerving in and out of traffic. Finally Min Woo manages to lose the reporter though Min Woo doesn't even know he was being followed.
Kae Hwa waits in front of her ex-husband's house. She waits for Min Ji. Min Ji walks out and complains about her father. Kae Hwa feels sad. Kae Hwa shows Min Ji the food she's made for Min Ji's picnic. Min Ji asks if it's okay for her not to go the picnic and just spend the day with Kae Hwa. Before Kae Hwa could answer anything further, Min Ji says that it's okay that she'll go to the picnic. I have no doubt that Min Ji was thinking about Kaw Hwa when she changed her mind and decide to still go to the picnic. She knows that Kae Hwa will worry if she feels sad. Min Ji leaves and Kae Hwa gets back in Min Woo's car. Min Woo starts driving. Kae Hwa's ex husband calls her on her cell phone. Kae Hwa yells at him for not taking good care of Min Ji and not caring about what Min Ji eats. She tells her ex that she's sorry for Min Ji for having a father like him. Kae Hwa hangs up and starts talking about her husband to Min Woo. She says that since her ex is a father he needs to take responsibility as a father.
Back at the house Kae Hwa gives Min Woo a glass of hongsam (ginseng tonic). She also hands Min Woo the musical script telling him that since he has nothing scheduled that day he should practice. Kae Hwa tells Min Woo to work hard since raising a kid costs a lot of money.
Kae Hwa drops Ye Eun at Bok Nim's hospital. Bok Nim asks Kae Hwa if she's seen Min Woo's abs. Bok Nim asks Kae Hwa to take pictures of Min Woo and his abs laugh.gif. Kae Hwa reminds Bok Nim that she has a husband.
At The Show office, the rest of the staff finds out that Min Woo is back on in the musical. Kae Hwa in her cute way asks Shi Joon if he still remember what she told him. She gestures her cute 'fighting' gesture.
The team comes up with a practice schedule. Kae Hwa calls Min Woo to tell him about the schedule. Min Woo who is still sleeping hangs up on Kae Hwa.
Kae Hwa goes back home to Min Woo's to wake him up.
Min Woo refuses to go practice. Kae Hwa tells him that he needs to go because he is the main actor. Min Woo still refuses. Kae Hwa tries to bribe him by saying that she'll cook anything he wants if he goes to practice. Min Woo thinks that's so childish.
Kae Hwa starts to get frustrated and tells Min Woo that because of him she feels like crying. Min Woo then tells her that if she can cry in 10 seconds, he will go practice. Min Woo starts the timer on his cellphone. When the timer ends at 10 seconds and Kae Hwa isn't in tears, Min Woo tells her that he's not going. But soon after that tears start to form on Kae Hwa's eyes and she starts crying.
Min Woo feels bad and tells her that he'll go practice.
Min Woo and Kae Hwa go to the dance studio for practice. Jung Ah is dancing in one of the rooms. Kae Hwa is amazed at her dance skills. Kae Hwa introduces herself to Jung Ah and giver her business card. Jung Ah looks at her card and says that she doesn't know that Jung Ah works for the company and that Shi Joon hasn't mentioned her. Kae Hwa says that she has only started working there and she innocently asks if Jung Ah is close with Shi Joon. Jung Ah answers that she is a bit close with Director Yoo.
Min Woo starts practicing with Jung Ah. Kae Hwa is about to leave but she forgets to give the script to Min Woo so she goes back in to the dance studio. She sees Jung Ah's boyfriend grabbing her and kissing her on the forehead.
Then Kae Hwa learns from Team lead Oh that Jung Ah is Shi Joon's wife. Kae Hwa is shocked but knows enough not to tell team lead Oh anything. Kae Hwa then goes with Shi Joon to a building. The radio is on as Shi Joon drives. The radio DJ reads a letter from a listener about how this listener's wife cheats on him. Kae Hwa changes the radio dial.
But again the channel she changed it too also talks about cheating. Kae Hwa turns off the radio. Shi Joon turns in the musical plan to someone at the building. Kae Hwa and Shi Joon get on the elevator. The rival musical company director is there and he starts belittling Shi Joon about their ominous start with Min Woo. Kae Hwa then blurts out that Min Woo is practicing hard as they speak. Kae Hwa proclaims that she is a member of The Show company.
The rival director laughs at her and tells Shi Joon that Kae Hwa has a style of someone who works at a market. The rival director makes fun of Shi Joon saying that he has a market ahjumma working for him and also an actor with horrible acting. Kae Hwa is furious but Shi Joon takes it all in.
Kae Hwa and Shi Joon at a café. Kae Hwa starts asking him question. She starts with asking if he leaves work with his wife. Shi Joon answers no. Kae Hwa tells him to leave together and spend more time as a couple. Kae Hwa then asks if Shi Joon works out. She tells him that a man needs to have six-pack nowadays laugh.gif. Shi Joon tells her that he doesn't like working out. She tells him that women looks at six packs.
Meanwhile Kae Hwa's ex Byung Hak is meeting with the rival director Uhm.
Min Woo finishes his practice. Yoo Ra calls and they agree to meet. Yoo Ra drives over to the dance studio. On the way she sees Kae Hwa. Yoo Ra rolls down her window to say hi to Kae Hwa and asks for direction. Kae Hwa without being invited goes in the car and tells Yoo Ra that she'll show her since she's on her way there too.
They get to the studio parking lot and Yoo Ra notices a hole on her stocking. She asks Kae Hwa to please buy a stocking for her since she doesn't know the way around there. Kae Hwa leaves but hands the prepared kimbap to Yoo Ra to bring in.
Yoo Ra come in to the dance studio. Min Woo and the other actors meet her. The other actors appreciate the kimbap. Yoo Ra is taking credit for making the kimbap. Min Woo is impressed with Yoo Ra for bringing the kimbap.
Kae Hwa arrives as Yoo Ra is leaving. Kae Hwa and Min Woo go back inside the dance studio. A dancer/actor approaches Min Woo, hands him a drink and tells Min Woo that he is his fan. Min Woo feels good about this. Kae Hwa cleans up the kimbap container. She is amazed that all those kimbap are finished. Min Woo finds out that Kae Hwa is the one that made the kimbap. Kae Hwa tells Min Woo to finish up so they can go home.
In the locker room, two actors are talking about Min Woo. They mention a scandal that happened to Min Woo a while ago and talk about other stuff about Min Woo. Min Woo and Kae Hwa hear it. Min Woo's mood turns sour after hearing it. Min Woo gets in the backseat of his car while Kae Hwa takes the driver seat. Min Woo's manager calls him but Min Woo turns off his phone. The manager is worried about Min Woo's contract. In the car Kae Hwa tries to cheer Min Woo up by singing a song (Wax's 'Oppa'). She sings it so horribly that Min Woo laughs about it at the end. Min Woo tells her never to sing anywhere at all.
Min Woo's manager and assistant get in to his house using the key card. The manager goes into the room and sees the DNA test result.
Min Woo is at the spa singing along to the song 'Oppa'. He's surprised at why he is singing that song. Kae Hwa and Min Woo are about to leave the spa when Kae Hwa gets a call reminding her to pick Ye Eun up. Kae Hwa picks up Ye Eun while Min Woo waits in the car. Kae Hwa tells Min Woo that Ye Eun doesn't have any other clothes and asks if they can buy clothes for her. Kae Hwa goes to a children clothing store and buys Ye Eun's clothes. Kae Hwa looks at a one piece dress thinking about Min Ji.
Min Woo sees Kae Hwa touching the dress. Kae Hwa goes back inside the car and hands Min Woo the change. Min Woo tells her to buy the one-piece dress. Kae Hwa does so and thanks Min Woo. Kae Hwa starts driving them home. When the car swerves a little bit, Min Woo holds Ye Eun to prevent her from falling.
Meanwhile Shi Joon and Jung Ah's relationship is becoming more distant as Shi Joon no longer wants to even look at her. He answers her curtly although Jung Ah at this moment has no idea that Shi Joon knows about her affair.
Kae Hwa drives in to the apartment parking garage. She sees both Min Woo and Ye Eun sleeping. Ye Eun's legs are on Min Woo's.
Kae Hwa doesn't want to wake up Min Woo but she can't let people see Min Woo sleeping inside the car so she covers Min Woo's face with the kimbap covering.
Min Woo wakes up. Kae Hwa tells him that she and Ye Eun should go up first to avoid any suspicion. Kae Hwa walks in and sees Min Woo's manager. They have a talk.
Min Woo's manager asks her how much she wants to keep quiet. Later on Kae Hwa confronts him about how he doesn't care about Min Woo and only cares about Min Woo the star for his own good. Min Woo walks in and sees the manager grabbing Kae Hwa's hand hard. He tells him to let her go.
The manager asks if they have a love relationship. Min Woo punches him.
credit :
o-cha @ soompi
here are the pic where Siwon dance Sorry Sorry in Oh My Lady ep.5
Choi Siwon will be dancing to his group, Super Junior's very own Sorry Sorry on SBS Oh! My Lady!
In this episode, Choi Siwon will be taking his dance lessons from the sexy Moon Jung Hee. Moon Jung Hee began the lesson with Brown Eyed Girls' Abracadabra, then Choi Siwon continued the lesson with the Sorry Sorry dance.
Moon Jung Hee said, "I engrossed myself in this role as Jung Ah by recalling the days when I used to teach dance." She also added, "Siwon is a good athlete and follows very well, so he will be a very good musical actor like in the drama."
cr : allkpop
SBS also released these pics. Said that they'll dance Sorry Sorry.
http://fleet1.footbig.com/f/00/00/63/34/l/...f4d676-6746.jpg
http://fleet1.footbig.com/f/00/00/63/34/l/...6459f7-2046.jpg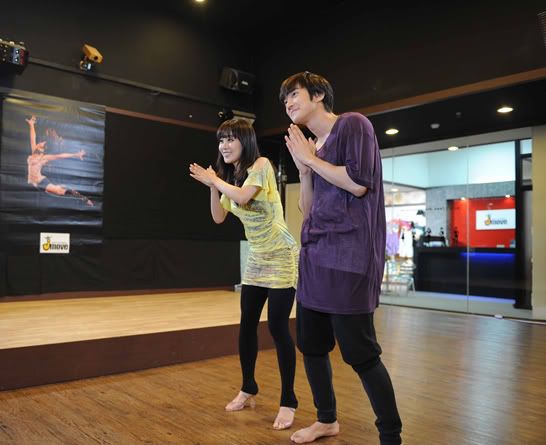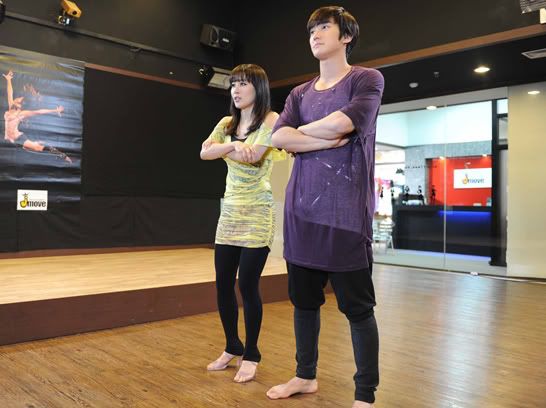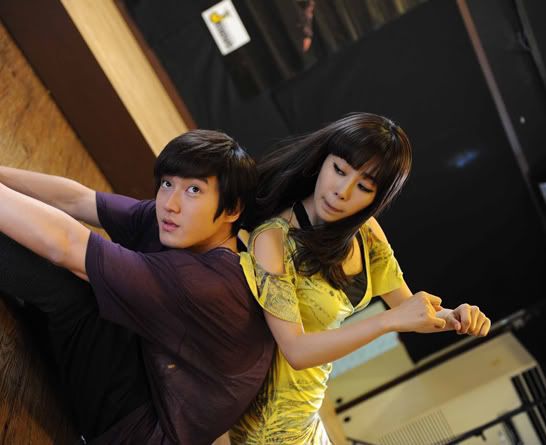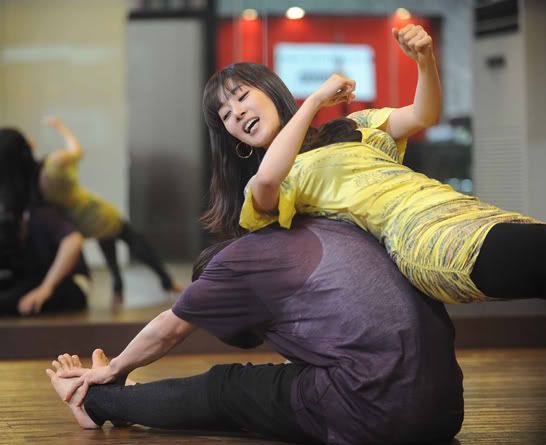 Credit : soompi thread for ohMyLady
Bonus : :)
or
COLLECT EVERYTHING ABOUT CHOI SI WON