Se7en's lover, Park Han Byul, was spotted wearing a wedding dress for a groom that was NOT Se7en.
So who exactly was the groom? Choi Siwon.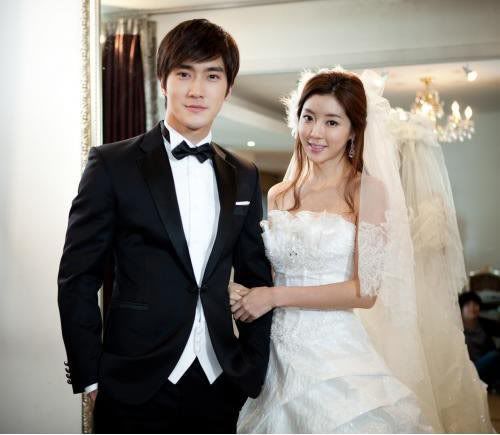 However, the reason Park Han Byul was wearing a wedding dress was because she was filming for SBS' Oh! My Lady. For this scene, Park Han Byul wore a precious, white strapless dress that showed off her collar bones. The lovely image of her in an equally lovely dress even resulted in her receiving remarks such as, "You look like an April bride," from the filming staff.
This particular scene will be of fashion director Hong Yoora (Park Han Byul) asking top star/ex-boyfriend Sung Minwoo (Choi Siwon) to wear a tuxedo that she designed. Minwoo reluctantly wears the tuxedo and and then gets surprised when Yoora pops out of nowhere wearing a wedding dress.
Viewers will be able to watch this scene on the 19th in episode 9!
source : http://www.allkpop.com

If you love this article then click
or
COLLECT EVERYTHING ABOUT CHOI SI WON