Dear Siwon, these below are special made for you. We want to always support and cheer you.
guys, if you want your edited image or video will be published here, pls send your image/video to me : ynkadr@gmail.com.
First pictures and poem came from
Kristele , Phillipine
.
click here
.
2. From
Sasha of Starjunior, Indonesia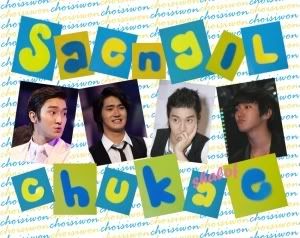 "This night is blessing the day that we met
The moon is out in the sky and the stars are smiling.
I wish that your smile won't be erased as I pray
for these happy days to always continue"
A polite guy who never absent to smile.
We wish you a bunch happiness..
Joyeux Anniversaire !
"On the nights I spend alone I keep thinking about you
Even if I call you and I complain that's not what I really meant do.
Did you already know and just act like you didn't?"
A devoted boy who never forget to pray,
We wish you a blessed life..
Feliz Cumpleanos !
"When there are hard times,
if I'd just listen to your voice for a moment,
I could forget everything and laugh it off.
I was so fortunate to able to meet you
because you'd make me smile by just being near"
A funny but mature man who loves to take care of the other,
We wish you an eternal relationship with your hyungs and dongsaengs..
Alles Gutte Zum Geburstag !
"I could find you even if you go far away over there,
because you're smiling inside of me
It's possible to fight after a long time but
even if that happens I won't ever change."
A guy who makes all of his fans scream out his name,
We wish you a long lasting love from your fans..
Sretan Rodendan !
"I promise, I swear under the heavens.
I'll pray beneath the moon to never make you cry.
Far into the future if you're ever worn and tired, think about the happy and beautiful memories
We plant faith in each other's garden and happiness blooms.
I'll send you the heart to my heart."
For all those smiles, you've given to us..
For all those happiness, you've brought to us..
For all the love, you make me feel..
I wish you all the best in your 24, siwonnie..
Elf will always love you..
We will always love you~
Notes: thanks to Mr. and Mrs. Choi, for raising such a perfect son. Your son is irresistible. We do love your son, thank you so much !!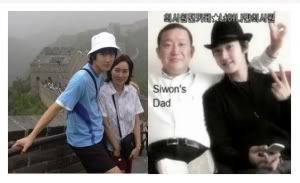 cr :
Sasha , Indonesia
.
These below are presented by "
G.LOW (GUARDIAN ANGELS OF CHOI SI WON) INDONESIA
"
3. From
U-Litha Ssi 사랑시원 S-Djojo

4. From
HyunEun 사랑 Siwon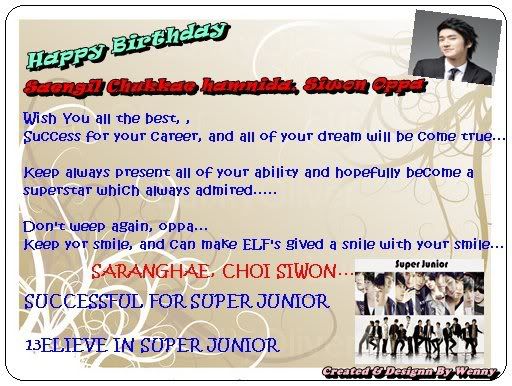 5. From
'Choi Li Won' Elf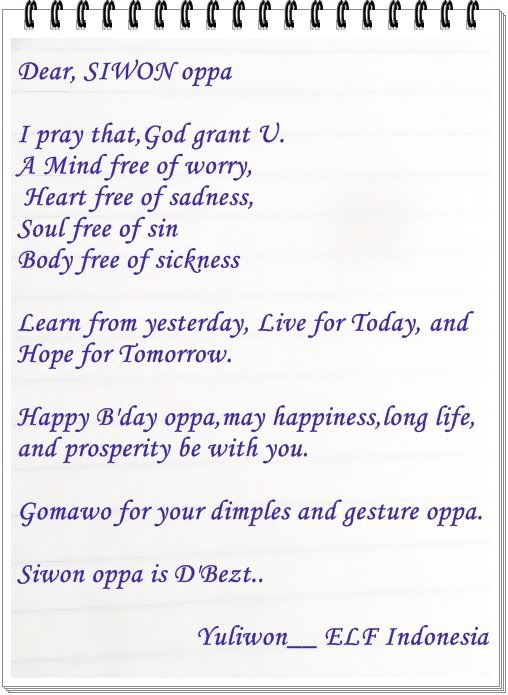 6. From
Widh Siwonest 슈퍼주니어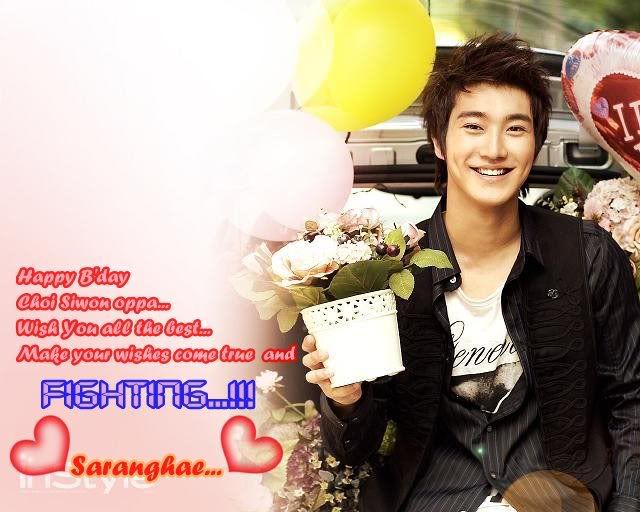 7. From
Choifyn Rainshi Herovey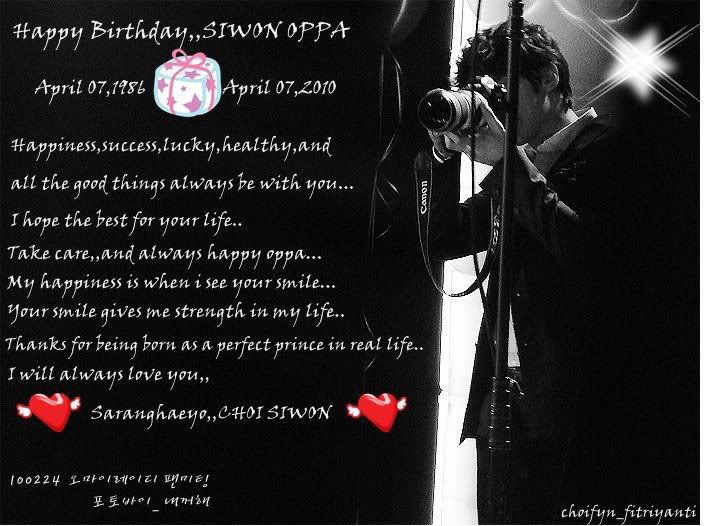 8. From
Choifyn Rainshi Herovey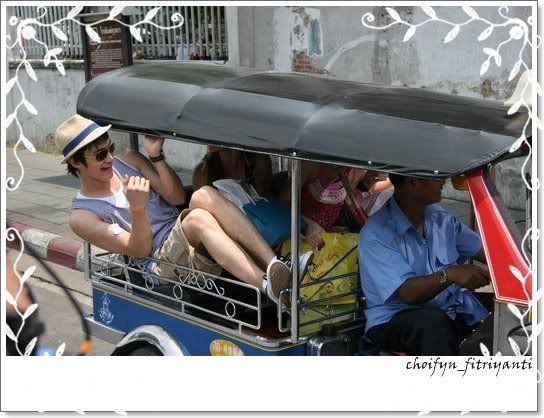 9. From
Kang Je Jin
10. From
Dhesty Wonnie Elf
11.From
Dhesty Wonnie Elf
12. From
-Nia Choi SiwonElf-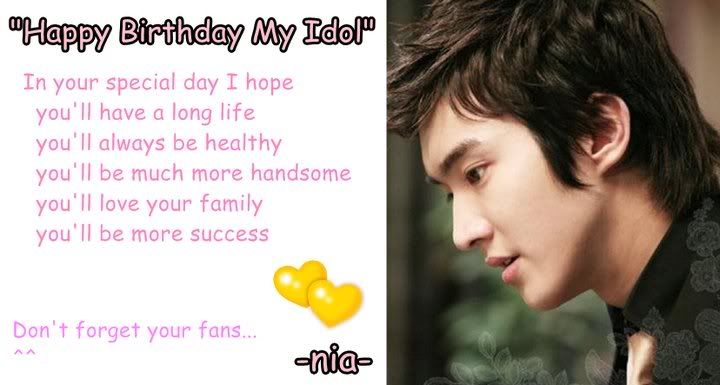 13. From
Dyah Ayu Choi Yaya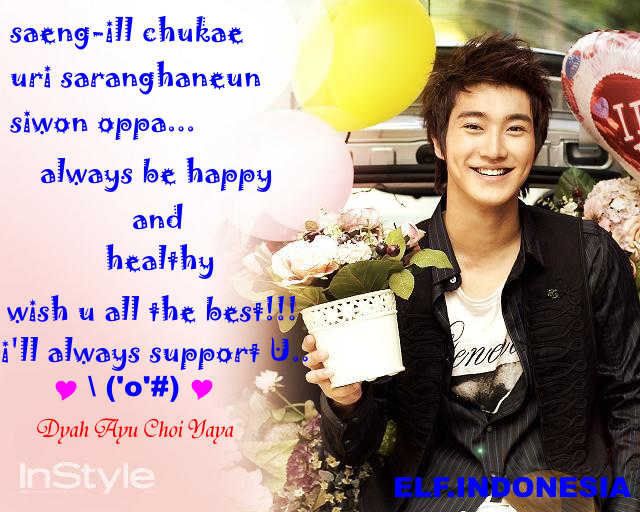 14. From
Shafa Sharvina
If you love this article then click
or
COLLECT EVERYTHING ABOUT CHOI SI WON