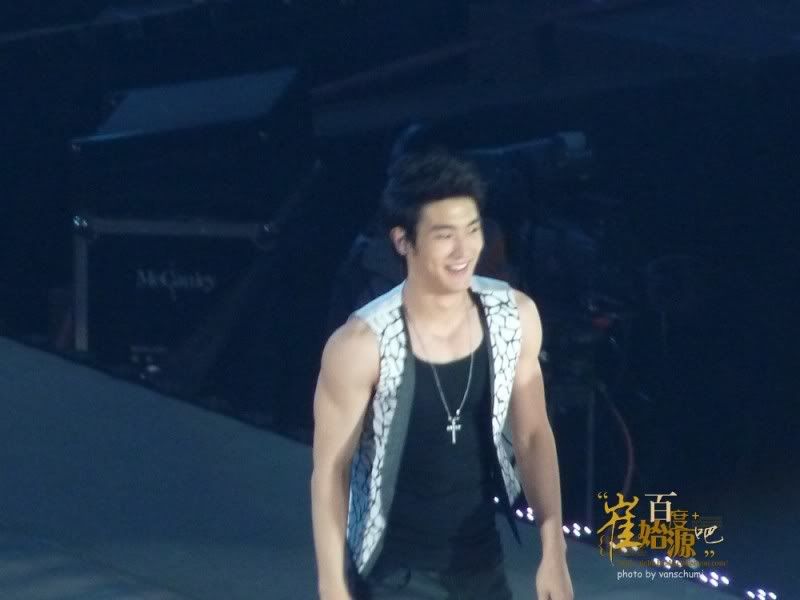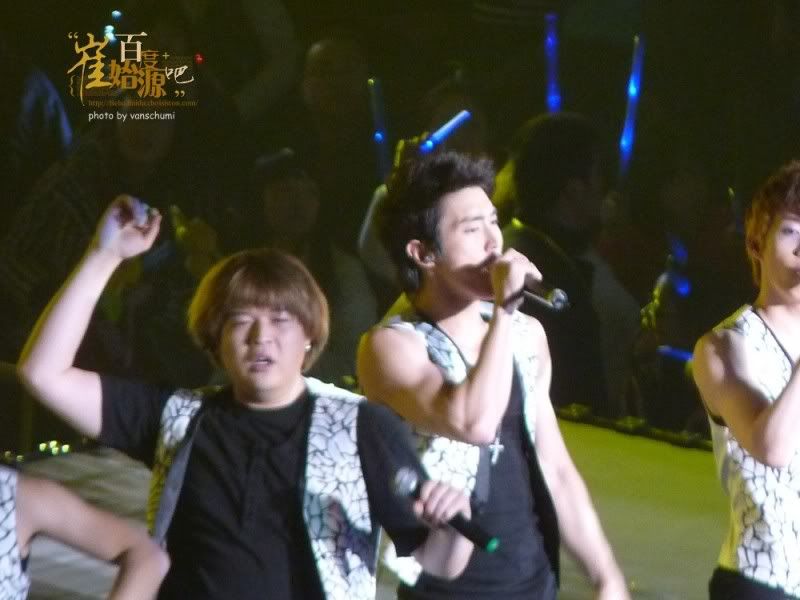 Credits and thanks to: thanks to ELFish, SmileHyuk + Donghae/Eunhyuk/ShinDong/Leeteuk/Heechul/Siwon's baidu bar for the live and pic :)
translated by: minoko2440@sapphirepearls.com
recap by: tiromaru@sapphirepearls.com
shared by: heecat.com
Take out with full credits!!!
19:35 the show starting soon
*Fans reported Leeteuk and Kyuhyun's sister are there~
*Fans are shouting chants "Hankyung, Kangin, Kibum" Lights are off
*The show will start asap
19:38 everyone is shouting the missing members name. fans are singing now~
*chaos at West side. someone appeared and everyone started shouting. Not sure who or why though
*VCR is showing Kangin now. everyone went crazy shouting for him
*Eunhyuk's sister is there too~ So it is Leeteuk, Eunhyuk and Kyuhyun's sisters :)
19:48 showing VCR. The show starts
*Eunhyuk's FAMILY is there!! His mother, father and sister~!! Parents chatting with fans :)
19:50 "A Man in Love"
*From Heechul's bar: Heechul has awesome hair today :P
*fr: heechul's bar: heechul has straight hair today
19:51 Donghae staring at the many rainbow towels prepared by ELFish :) – during "A Man in Love"
*Elfs at the front row can see donghae's red underwear XD
19:55 "U"
*Donghae Kyuhyun Eunhyuk with short hair. Uber handsome :P
*Heechul's wearing white fan for "U" so classic :)
19:58 "It's you"
*Notable Moments: During the starting dance, ELFish said they never see the dance before (new dance?)
*Eunhyuk is blonde today~ :)
*Donghae threw his jacket. Very sexy : By ELFish
*EVERYONE RIPPED OFF THEIR SHIRTS~ hahahahahah: Cr: Heechul's baidu
20:02 "Disco Drive"
*by SmileHyuk: Eunhyuk seemed skinnier. but he looked energetic :)
*Eunhyuk did not dye TOTAL blonde. partial~ highlight?
20:10 Introduction Now
*someone asked "Do you love me?" (don't know who)
*Heechul said "Thanks" in chinese :)
*heard Shindong's WINE/BEER SHANDONG's introduction~ LOL
*Fans shouting "Milky skin Kim Heechul, Saranghaeyo Kim Heechul"
*Donghae told the fans not to catch a cold
*Yesung and Sungmin did a few kicks, Ryeowook said he missed everyone
*"Dearest Babies, I miss you all, Please don catch a cold. I am Donghae"
20:15 "Angela"
*Eunhyuk,
Siwon
, Donghae and Shindong had a running race~
20:19 "Miracle"
*danced to Ring Ding Dong during Miracle.
Siwon
patted Donghae's ass. LOL
20:24 "Disco Drive"
20:27 "Dancing Out"
*
Siwon
carried Heechul and pointed out the Heechul's banner to him~
20: 30 "Baby baby" by Sungmin
20:34 "Beautiful" by Donghae
*The whole stadium is shouting Lee Donghae now.
*Notable Moments: Heechul seemed very pleased with the Butterfly banners prepared by Fans. :) keep running towards them
*Donghae has a selca with himself and his fans. seemed to be pleased with his selca :)
20:38 "Resignation" by Yesung
*Notable Moments:
Siwon
carried Shindong, Sungmin and Heechul
20:42 "Insomnia" by Ryeowook
*certain his female partner jus appeared.
20:46 "Forgive Me" by Kyuhyun
*Everyone singing along @ Kyuhyun's solo :)
*Kyuhyun cried
20:50 "What If"
20:53 "Heartquake"
*Eunhyuk's voice is really soft during HeartQuake, perhaps the fans were too loud? he jus recovered so … – SmileHyuk
20:56 "Honey" by Leeteuk
*Notable moments: Leeteuk showed off his light banners to Yesung
20:59 "Sonata of Temptation" by Heechul
*Heechul screamed after his solo ended, then said Thanks
21:02 "Don't Don"
*Donghae in white singlet @ Dont Don
*EunHae's dancing~~ :D
21:06 "Twins"
21:10 "Our Love"
*Notable Moments @ Our Love: HyukMin moments :)
*Leeteuk and Shindong reached into Donghae's shirt and touched his chest!
*before Our Love, Leeteuk said "I missed you" and he keep staring at his banner during ShiningStar. bowed very long after that
*YES! WookMin moments during Our Love. Sungmin has his head on Ryeowook's lap
21:14 "Puff the Magic Dragon"
*Notable moment: Donghae touched Yesung Philtrum
*NotableMoment: Eunhyuk disturbed Yesung when he sang. Yesung "AH!" and couldn't continue singing. LOL
*People are wondering where Heechul got a newspaper from. was playing with it during Puff
21:18 Dance Battle
21:24 "Who am I" by
Siwon
21:28 "Blue Tomorrow" by Super Junior M
*Everyone is screaming for Hangeng
21:32 "Super Girl" by Super Junior M
*Donghae is all black during Super Girl. yes, his undies is RED! LOL
21:36 "Shining Star"
*Eunhyuk seemed like he is going to cry during Shining Star (but didn). there is Kangin in Sorrysorry's VCR :D
*Heechul looked like he cried during ShiningStar. He ran off uber fast aft the song ended
*Heechul has a new hair. Not sure what type. Donghae is hugging his rainbow towel during Shining Stars.
*Donghae kept looking for his own banner. haha
*there were many colorful paper planes flying around. he tried to grab hold but failed. he looked like a prince :)
21:39 "Sorry, Sorry Answer"
*
Siwon
showed off his ABS. Donghae's sunglasses disappeared mysteriously~ LOL
*heechul is wearing a white hat during Sorry Sorry. Super Handsome :)
21:44 "Chu~"
*Shindong did a great flip
21:48 "Rokkugo" by Super Junior T
21:52 "Sunny" by Super Junior T
*
Siwon
jus kissed Heechul's forehead
21:56 "Pajama Party" by Super Junior H
*NotableMoments: they were stepping on Eunhyuk, and Eunhyuk is imitating a dog, woofing
*TeukMin moments @ Pajamas party.
22:00 "Carnival"
*Shindong Sungmin and Heechul dancing SEXY DANCE now~
*Notable Moment: ROFL Heechul and
Siwon
. No~ SulHee and
Siwon
for AndreKim's fashion show
*Donghae is using a puppet/softtoy and practising kicking now. LOL
*BWHAHA! Everyone is trying to pull off Eunhyuk's pants~
*Donghae jus picked up another rainbow towel and tried tying it on his waist.
*During "Carnival" Shindong and Heechul did BoPeep again.
*Leeteuk picked up a towel with Teukigayo pin on it. He danced a dance he did in Teukigayo too
22:05 "Marry You" – Finishing soon
*everyone saying they are hungry. Donghae asked the Elfs to call him. bwhahaha
*Heechul is entertaining the fans lots today. Throwing sunflowers and fans up and down the stage. playing? :)
* Yesung say "wo ai ni"
*NotableMoments: Heechul whacked Donghae's ass, then gave him a back hug. Leeteuk playing paper aeroplanes with the fans
*Eunhyuk said "You are my everything"
22:10 The show end
*Donghae gave a flying kiss and ELFish were grateful that Donghae kept the rainbow towel on his shoulders throughout the concert :D
*During thanks, Heechul did the "I SAY ZHOU YOU SAY MI" :) he bowed and waved to his light banner
*Donghae took the rainbow towels backstage. ELFishs were really very very very touched
*After Donghae said "You are my Everything" he seemed embarrassed and laughed.
http://heecat.com/2010/03/07/news100306-ss2-shanghai-fanaccount/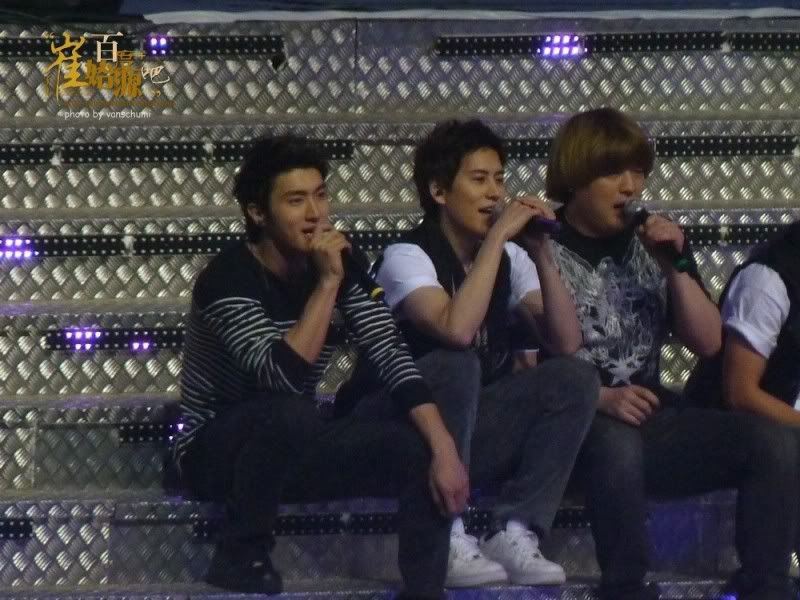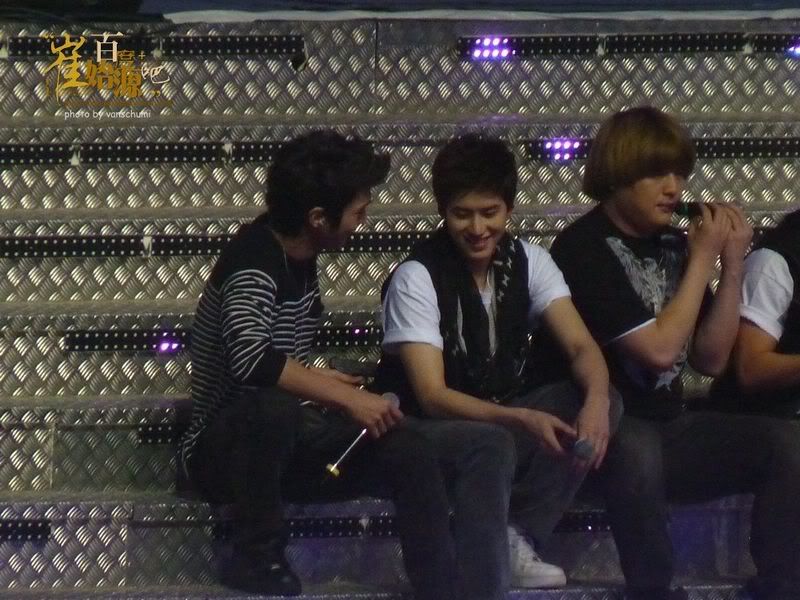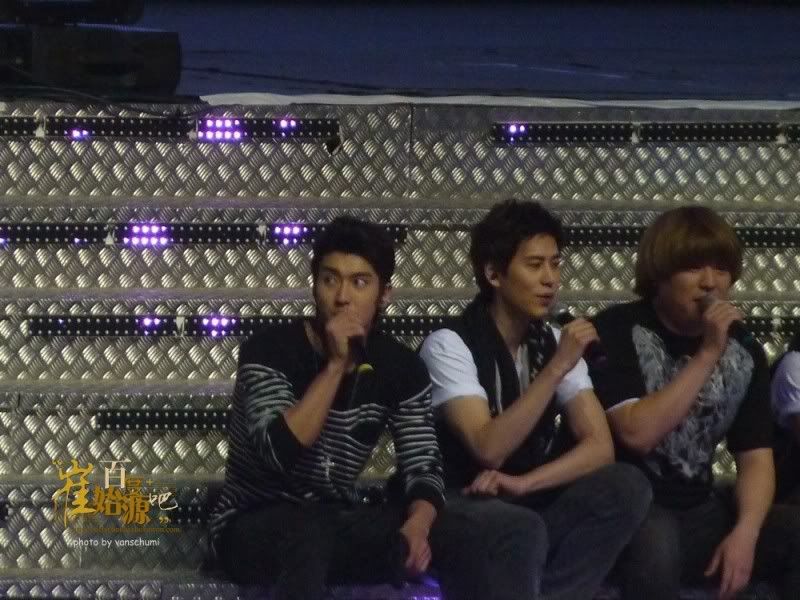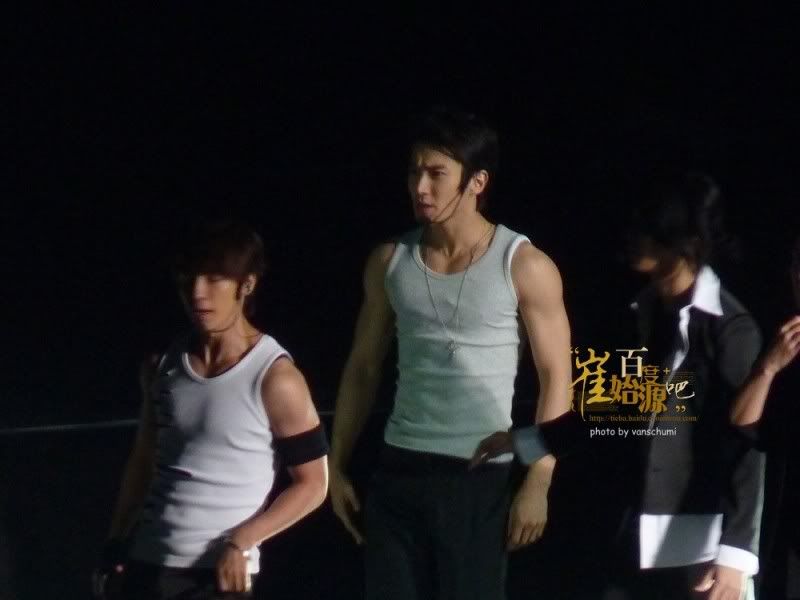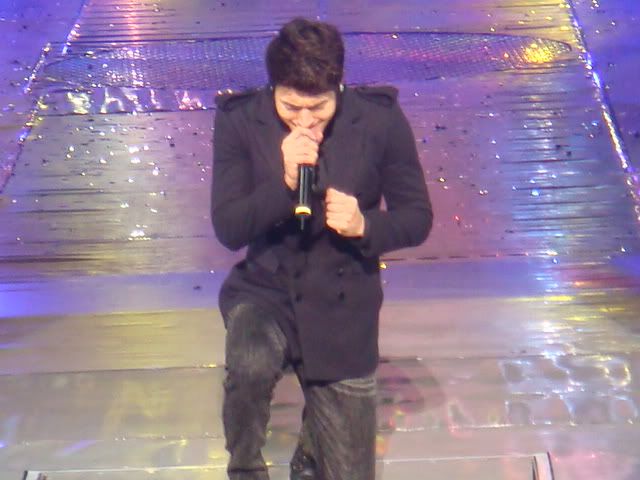 credits : choisiwon baidu/ reup by stalker93/ do not hotlink
These moment when
Siwon
and Heechul pretend as Siwon and Suli for Andre Kim fashion show.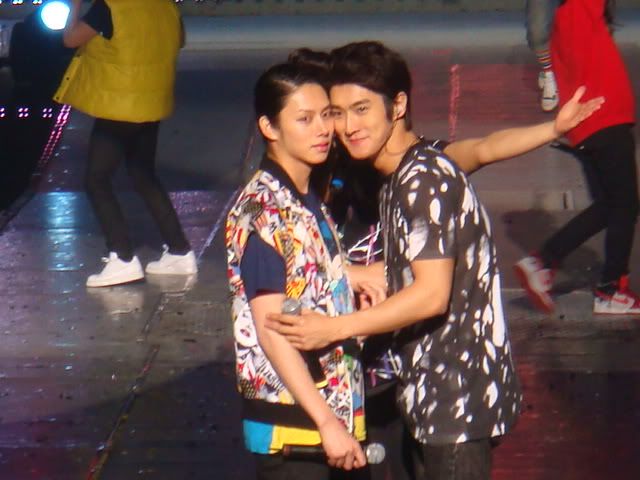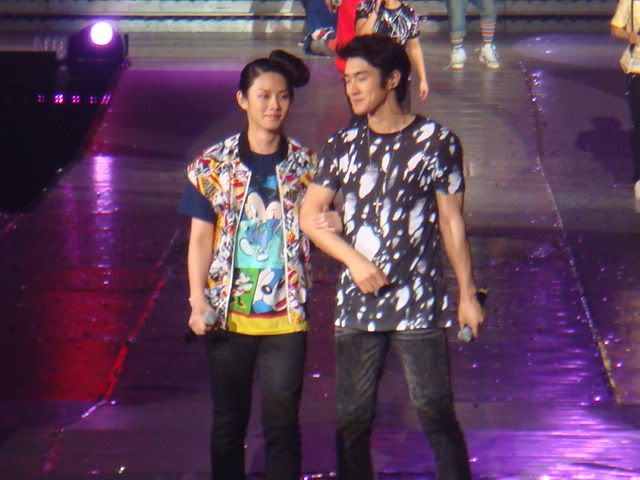 credits:Heechul baidu bar
Henry and Siwon's Responses to ONLY13 Supporters
http://www.twelfs.com/blog/
As we've reported earlier, fans reported that Siwon had to ask Shanghai ELFs who kept chanting HANGENG's name to be quiet when Mimi was singing. Apparently, it was not during a particular performance but more towards the end of the concert, when all the boys gathered, thanking the fans. It was Zhoumi's turn to speak when ELFs started to chant Geng's name… Siwon sticking up for Mimi had to say "please be quiet". Fans also reported that Siwon looked slightly pissed. Watch the fancam below..
Based on fan reports, ONLY13 supporters attacked both Henry and Zhoumi with rude and mean words during the show, causing them to feel unaccepted in their own hometown. UPDATE: When Zhoumi sang Hangeng's parts, fans shouted "Give us back Hangeng", "Zhou Mi get lost!" or just simply "Hangeng!"
CREDITS : 小颖米 @ youku | reuploaded by myystiqueen @ TwELFs.com (TheTwelfs @ YT)
If you love this article then click
or
COLLECT EVERYTHING ABOUT CHOI SI WON