see more pictures about Choi Siwon on High Cut magazine click here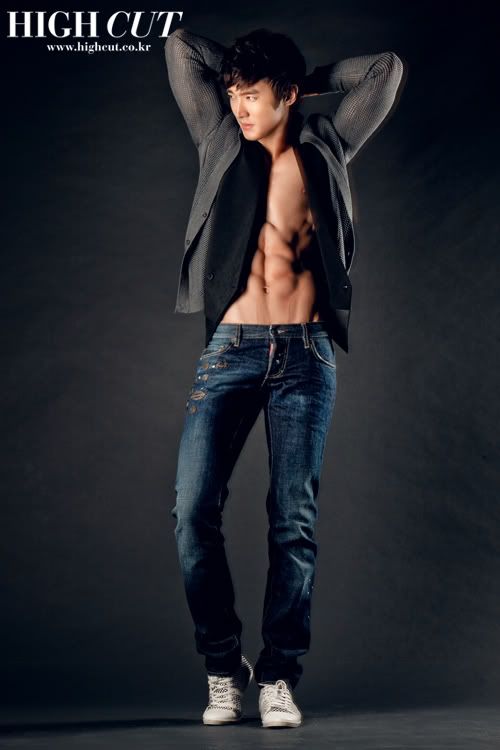 gif source : http://community.livejournal.com/omonatheydidnt/2893077.html
Siwon Interview in High Cut
▶Always hard working, but a 'Cool Guy' who doesn't drag on.
It's his first drama for 3 years ever since 'the Legend of HyangDan'. He will be acting as 'picky top star' Sung MinWoo along with Chaerim, 'ajumma manager'. He was easily seen on TV as Super Junior's
SiWon
for many years, but he couldn't resist his want to act. In fact, he debuted as an actor before his debut as Super Junior. I told him his filmography is not very much known (even though he acted in '18 vs 29', 'My Precious Family', and 'Drama City – charnel house boy'), he takes it without offense, answering coolly.
"There are pros in many people not knowing my past works. I can be show them better side of myself."
In fact, he is unusually modest for a celebrity. All the people who know him credits him for his good manners. It's hard to imagine 'Good mannered guy'
SiWon
falling in love with ajumma manager as 'picky top star'. Especially it's his first leading role in a drama. Wouldn't he be pressured?
"I wanted to challenge the role because it was different from my real self. I like the good mannered image but I don't like being caged in as one image. To tell you the truth, I don't feel any pressure." I told him there is unknown confidence coming from him, he denies it quickly. "If I keep tell myself to do better, I could be over confident. So I'll definitely try my best, but I won't drag on. (meaning he won't be greedy for himself)"
He got rid of any greediness but prepared for the drama like mad. After he was chosen for the role at the end of January, he focused on building his body in three weeks. The words 'chocolate abs' caught his eyes the first time he read the synopsis, he was pressured. At the start of 2010, he was at 78kg, but he lost 8kg in a week as the result of crude body making for priceless six packs. "The secret? I didn't eat, but only ran." He got his perfect body after 3 hours of daily aerobics, and waterless days.
Supports from his family-like SJ members are a big help. Heechul affectionately advised him that 'since you haven't been acting for so long, your sense in acting must have gone down, so you have to work hard to get that back.' Also, Leeteuk, Eunhyuk, and Shindong, (TeukAcademy members) have volunteered to be PRing for his drama.
I got curious about his chemistry with Chaerim. "She's really nice, taking care of me at the studio. I was worried that it might be hard to get along with her, but she came to me, talked to me first. We didn't know each other before OML, so I was just a fan."
▶'Hot Guy' who would do anything for his love.
'Gentleman
Siwon
' was rediscovered in program "Star King" last year. He had over 60 laundry pins on his face, challenging himself for a new record. His manly tenacity was shown in that challenge. "I hate losing. That time, I wasn't supposed to do better than the challenger as he came out on TV with it, but I don't spare my body because that way, I won't have any regrets after."
As he tries his best in everything, what would love mean to him. "I will do anything for my love. When I was signing with SMEnt., I asked if it was okay to get married while I had my contract. The president (of SMEnt.) was surprised, asking 'yes you can.. but do you have one you want to marry right now?' I replied 'No, I don't have one. Not yet.' (SW smiled here.)
He dreams of a such a devoting love, willing to give anything for the love. "I want to have a happy life as you only live once. I want a love where I can give anything, like agape love. The Bible says 'Charity shall cover a multitude of sins'. (in Korean translation, charity=love) One of his life goals are to be a good son, good son-in-law, good husband, good head of the family, and good dad. He will marry when everything is ready.
I asked for his ideal type, he smiled and said there was a same question in the drama. " 'What's your ideal type, Minwoo?' then I answer. 'Of course I like pretty women. But as I get older, I like people I can relate to, I can communicate with.' And that's really how it is for me in real life."
He is a guy who would die for his love. Would he really fall in love with a single mom like in OML even in real life? "You probably wouldn't believe me, but I'm like a 'ticking bomb' in a way. I can't lie. I try not to. Age isn't a factor to me. I don't care if my girlfriend is 12 years older or more. If I fall in love with her, then age is only a number to me.
CREDITS
Original article : Sports Chosun
English translation: kc_PSB @ TwELFs.com
If you love this article then click
or
COLLECT EVERYTHING ABOUT CHOI SI WON