Dont forget, this drama will be aired today March 22,2010 (SBS)at 8:50 p.m

click here for Choi Siwon - OhMyLady pic and video, part 1, part 2, part 3, part 4, part 5, part 6, part 7

The upcoming SBS drama Oh! My Lady will star the guy with the abs Super Junior's Choi Siwon as a snobby yet sexy & famous actor.
In recent teaser photos (see below), Siwon shares a hot kiss with Jun Hye Jin – a scene that's already driving fans (& me) crazy! The drama is about a rookie manager who is in charge of a top star, Siwon; in the first episode, Siwon and Jun Hye Jin kiss while filming a movie.
During the actual filming of the scene, fifty of Siwon's fans actually showed up to play as extras of the drama & movie that Siwon's actor character is in. In a scene of Siwon's character's fanmeeting, 300 of his fans showed up and sang for him. How touching.
The staff said, "Using a cameo star, Jun Hye Jin, for a kiss scene is new thing we're trying out."
http://www.allkpop.com/2010/03/siwons-hot-kiss-scene-from-oh-my-lady-will-air-soon
OST:
Theme Song by SNSD's Sunny
(preview rip)
English subbed by
WITHS2
Drama Wiki
|
Soompi Thread
|
Dramabeans
Time Conversion: To view this drama live in your local timezone
Click here
—> Set the correct time and date, in this case it would be 8:50 March 22 => Click Submit
—> Then look for your location At the "IN" bar, the time will be automatically converted
http://shiningbluey.wordpress.com/2010/03/21/100322-oh-my-lady-siwon-archieve/
-----
Upbeat rom-com vs. court romance//"Oh! My Lady" SBS/"Dongyi" MBC
Tonight signals the end of a "High Kick Through the Roof" era and the start of a new MBC sitcom, "Bolsurok Aegyo Manjeom."
It also heralds the start of "Jewel in the Palace" and "Yi San" director Lee Byung-hoon's latest project, MBC's "Dongyi."
While "Dongyi" looks set to repeat the success of its blockbuster predecessors, it is SBS' new Monday and Tuesday night series "
Oh! My Lady
" that promises to be a sleeper hit.
Featuring "Dalja's Spring" actress Chae Rim and boy band Super Junior member
Choi Si-won
, the lighthearted rom-com looks set to reel in audiences with the bickering and sparring that arises when a spunky heroine goes head-to-head with a "bad boy" celebrity.
Gratuitous displays of Choi's abs -- the result of a chicken breast heavy-diet and exercise -- coupled with Chae Rim's knack for being adorable and feisty make for eye candy-laden comedy. Add to that Choi's ability to pull off the role of a star who is a party-loving, abysmal actor, and it seems like this series will have a strong run.
"My character gets matured, manufactured and changed," the 23-year old K-pop star said at a press conference last week.
Actress Chae Rim's character, obviously, will be giving Choi's character his makeover as his unlikely manager. Though this is Choi's first stint as the lead in a 16-episode TV series, co-star Chae Rim revealed that Choi "has a strong passion for acting."
What really clenches the charm of "
Oh! My Lady
," however, is the fact that "Cat on the Roof" scriptwriter Gu Sun-kyung is on board. Gu, who co-wrote "Cat on the Roof" with Min Hyo-jung, showcased an ability to whip out cute and romantic repartee in the hit MBC series in 2003. Now Gu is ready to repeat history once again.
If SBS' "Oh! My Lady" promises to win audiences over with its upbeat comedy
, then MBC's "Dongyi" promises to grab viewers with its melodramatic court romance.
Based on the life of the mother of Joseon's 21st monarch, "Dongyi" charts the heroine's rise from her position as a maid to that of the royal concubine of King Sukjong (played by "Jewel in the Palace" actor Ji Jin-hee) and then as King Youngjo's mother.
....
"Oh! My Lady" starts tonight at 8:50 p.m. on SBS.
SOURCE:
Korean Herald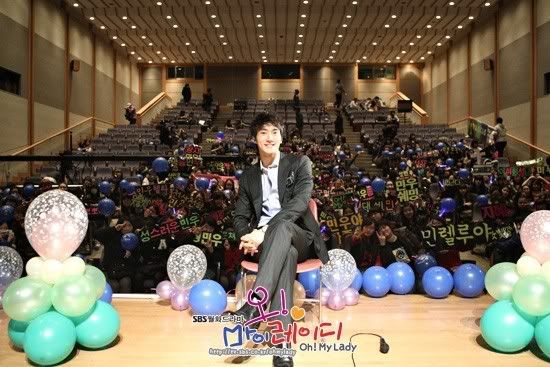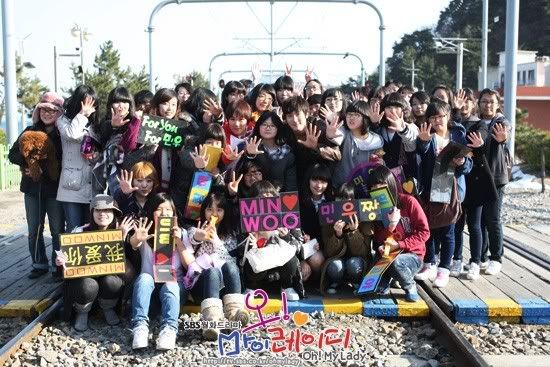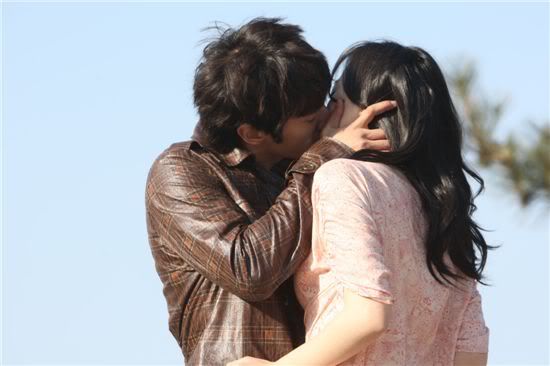 CREDITS
SBS Oh! My Lady Official Website
reuploaded by danica + myystiqueen @ TwELFs.com
Credits: www.newsen.com + sj-market | Shared by Blue`Princez at SJ-WORLD.NET
CREDIT: UnknownCarrot220 @ YOUTUBE
If you love this article then click
or
COLLECT EVERYTHING ABOUT CHOI SI WON