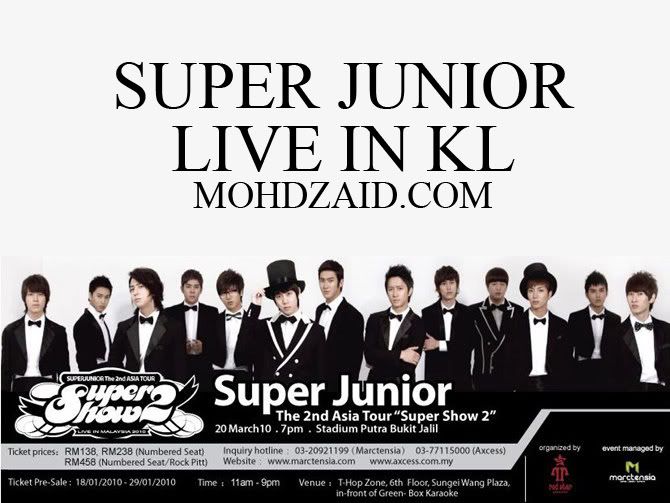 Super Junior will arrive in KL on
March 19, 2010
Flight MH067 - Seoul to Kuala Lumpur
Arriving at 4:45 PM
- 9 members, without Siwon, Kangin, Kibum and Hangeng --
March 19, 2010
Flight TG657 - Seoul to Bangkok
Departing at 9:25 AM - Arriving at 1:20 PM (March 20)
-
Choi Siwon
-
March 20, 2010
Flight TG415 - Bangkok to Kuala Lumpur
Departing at 8:50 AM - Arriving at 12:00 PM
-
Choi Siwon
--
Siwon
seemed will transit in Thailand before going to Kuala Lumpur because no plane left.
Then about where they will staying, it's informed that they would stay in GRAND MILLENNIUM hotel.A 5 star hotel.It is not possible for Marctensia to let Super Junior staying in 4 star hotel.
complete address in
Grand Millennium Kuala Lumpur
160 Jalan Bukit Bintang
55100 Kuala Lumpur
Malaysia
The hotel is located in Bukit Bintang area, can be reached by taxi from the airport to the hotel , it costs RM80, the hotel provides 24-hour taxi service at the airport. From the airport to the hotel approximately 1 hour (overland trip). Whereas when using the train, it takes 30 minutes from the airport at RM35 (Huang Tuah station).
source :
starjunior.wordpress.com
information about Super Show II last stop - on Phillipine
click here
.
If you love this article then click
or
COLLECT EVERYTHING ABOUT CHOI SI WON