Popular Korean boy band SJ-M said they're too busy to be in love. Donghae laughed and said he doesn't even know what a kiss feels like.
SJ-M has a full-packed sked in Taiwan. Asked about their impression of Taiwan, Kyuhyun said A-mei's "Ding Hai" was the first Mandarin songs he's heard, while Donghae couldn't seem to stop talking about Ariel Lin and said he would like to shoot an idol drama with her.
The group been traveling all over Asia to promote their music careers, so they haven't had time to fall in love. Siwon said: "Women need to have [their special] someone by their side, but we're all too busy, they might not like to be in a relationship with us." Donghae even laughed and said: "Up to now, I still don't know what a kiss tastes like!"
Hangeng who was once rumored to be involved with his senior, Li Xiaolu, explained: "We're really just good friends. If meeting friends is enough to spark rumors, then I'm worried that if I go out with a male friend, [people] might think we're gay. I hope our fans can understand and refrain from verbally attacking my friends.
SJ-M: No time to date, nor to experience what a kiss feels like
Source: libertytimes.com
translated by Btzigane @ http://asianfanatics.net/
Credits:Daily K Pop News
-------
Korean idol group Super Junior are set to release a live album of their tour on Thursday, according a press release by their agency SM Entertainment.
The album, titled "Super Junior The 2nd Asia Tour Concert Album", will contain live performances from their July concert, held at Seoul's Olympic Park Fencing Stadium from July 17-19. The contents include performances of their hit songs as a group and as the group's sub-units, Super Junior-K.R.Y., Super Junior-T and Super Junior-M.
In particular, the bonus tracks of the album carry an R&B ballad version of their hit single "Sorry Sorry-Answer", newly arranged versions of "It's You" and "Shining Star" as well as the classic pop tune "Puff The Magic Dragon".
The remix versions of "Sorry, Sorry-Answer" and "It's You" will also be available on Internet music sites such as Melon, Dosirak and Cyworld prior to the album's release.
Super Junior, composed of 13 members, has been one of the most popular K-pop acts in Asia since their debut in 2005.
Reporter : Lynn Kim lynn2878@asiae.co.kr
Credits:Asiae.co.kr
Credits:Daily K Pop News
------
Super Junior M appeared on the LIVE SHOW for 100% Entertainment broadcasted in Taiwan.
They have also pre-recorded a fanmeeting session, which should be broadcasted soon. (will update after i know the confirmed date)
WATCH SJM ON 100% ENTERTAINMENT HERE
Credits:BAIDU_SUPERJUNIOR & TUDOU
----
SUPER JUNIOR M in Taiwan

Popular idol group Super Junior-M met up with their Taiwanese fans on December 5th. The 7 members not only left the stage to get close with the audience, they also performed 12 songs including "Super Girl". Henry, whose mom is Taiwanese, performed Jay Chou's "Silence" to show his affinity for the fans.

SJ-M performed at the TICC on Friday night. Unlike other Korean stars that often show music videos and play games at fan meetings, their show cost NT 3 million for lighting and audio, 3D effects, and other equipment. SJ-M played the game "Musical chairs" with their fans and shared a hug with the winning person, while the rest got to shake their hands.
The members have been working hard on practicing some local hit songs for this fan meeting. Member Zhou Mi sang Wang Pei-Rong's "Only want you to be happy", Kyuhyun sang Jam Hsiao "Forgive Me", and Ryeowook sang F.I.R.'s "Our Love". Donghae performed a dance version of Jason Mraz's "I'm Yours", while Hangeng did a hip-hop dance, making the fans go wild. Siwon sang the Chinese Gospel song "Happy Day", in which the lyrics included, "God, you wash away my sins" (ni xi jing wo di zui), but due to his inaccurate pronunciation, it sounded more like "kiss kiss my lips" (qin qin wo di zui), making the fans blush.
Source: CpopAccess
Original Article: HERE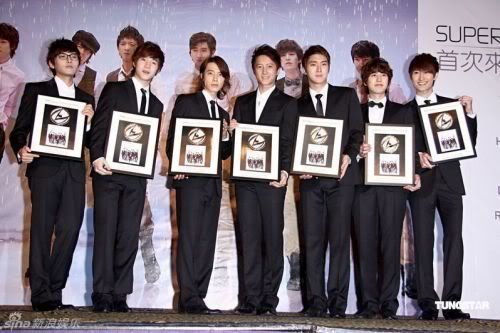 -----
PEA
Credits: PEA Official Website + 宝蓝阁 by 葵之语
Reuploaded by: ★_Excentrique @ SJ-World.net
shared by icepluscoffee@wordpress
----
Super Junior-M & Zhang LiYin will be In ShenZhen Happy Valley Carnival On New Year's Day
Asia's super group Super Junior M and their junior Zhang Liyin will perform on the first day of 2010 on the Happy Valley stage. Besides singing songs that their fans are familiar with, the talented members will play games that will show off their charm and make the fans go crazy.
On the afternoon of the same day, there will also be a fanmeet activity to create hype for the performance at night.
credits: adapted from article here
translations by tjh246@sj-world.net
If you love this article then click
or
COLLECT EVERYTHING ABOUT CHOI SI WON