Super Junior attended
The 24th Golden Disc Awards
December 10 2009, 7:00 p.m.
see

Super Junior performance

at this famous music event here
.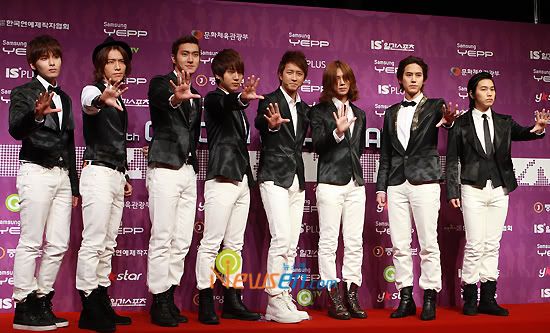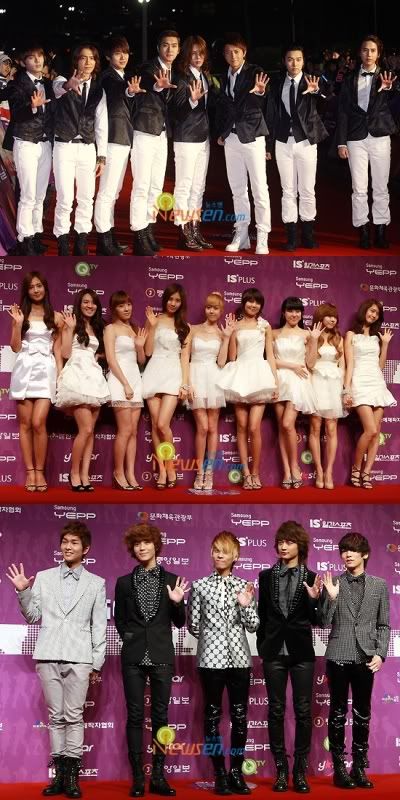 you can see more picture at here.
Super Junior's Interview With ISplus At Their Golden Disk Award's After-Party
① Super Junior "now it still pulls at our heartstrings to be able to get GDA daesang"
Eunhyuk cheered with soda instead of alcohol
I (the reporter) had a drink with Suju on December 10th. After the GDA ceremony, they had had a after-party at a samkyeobsal restaurant at Apgujeong, Kangnam. Although it had been near midnight but there were still about 100 fans surrounded outside the restaurant.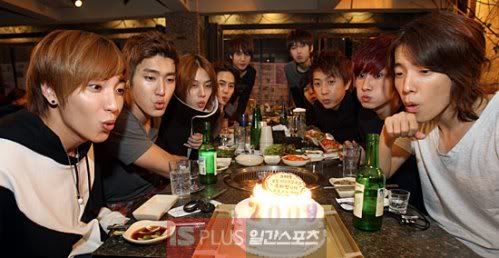 On that day, except Kangin who got into the DUI accident, Kibum who was filming "Jumujin" and Shindong who got radio show "Simsimtapa", the all other 10 members joined in the party.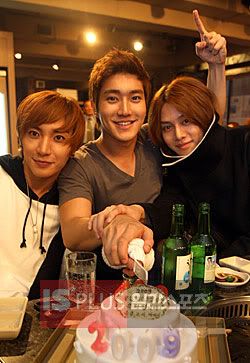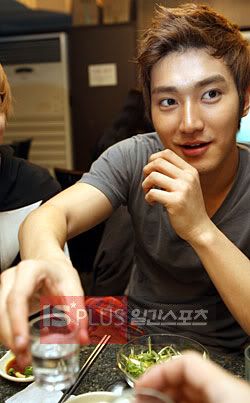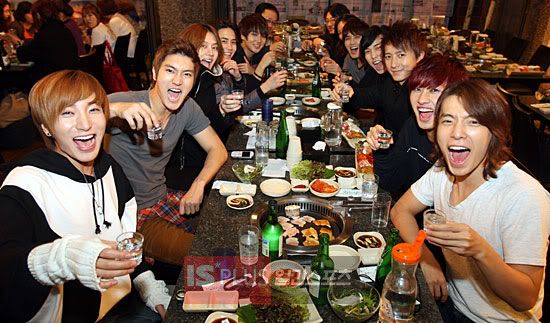 - Congratulation
Leeteuk : I'm very happy because as a singer, to be able to stand at that palce is like a dream. I want to thank to our fanclub ELF who had given us a lot of support.
- You had cried a lot at the ceremony, what emotion you have been filled with ?
Leeteuk : Although I said that I wont cry but in the end I burst out with tears. I felt sad because Kangin & Kibum cant be with us today.
- How about Kangin ?
Leeteuk : I talked to him after the ceremoney ended…he also is watching the ceremony at home. He himself was very happy that he cried. "Hyung, I'm so so sorry" I heard him said that and it really tugged at my heart.
- And Kibum ?
Leeteuk : He is filming for the movie "Jumujin" at Kangwondo. He might feel happy a lot as well.
Leeteuk "I feel very sad about DBSG's argument"
- Do you also cried because now you has escaped from DBSG's shadow, dont you ?
Leeteuk : Although DBSG debuted earlier than us but they're still our dongsaeng when it comes to age. In fact we always envy with DBSG. Whenever we see them as the best group in the world, we always think that "when will we be able to become like that ?"
- So do you really care about DBSG in danger of breakup ?
Leeteuk : Yes, I feel very sad. They are all my good dongsaeng…especially I had met Xiah Junsu since he was a trainee in his Junior high/high school time, he has been a friend and a hoobae who shared happiness and sorrow with me. He always asks me for advice if he faced a difficult problem. I feel that we're the same and dont have much difference.
Eunhyuk " I myself directly prepared the celebrities' photos for 'Strong heart' 'Teukigayo' "
- SBS Strong heart's Teukigayo is really funny
Eunhyuk : Thank you. With Leeteuk hyung and Shindong hyung, 3 of us also have a lot of fun in preparing for the show. Fortunately, there are many people who like it so I feel more confident.
- Another person do the writing thing ?
Eunhyuk : No, we ourselves directly do all, from the ideas to practice, performace, finding celebrities' past photo and print them. After having the in-charged PD's agreement, we feel like we can be those gagmans from Gag concert.
- Has Boom in military contacted you ?
Eunhyuk : Not yet. But before Boom hyung entered the army, he had given Leeteuk-hyung a letter of attorney for "Teukigayo" (laugh)
- Your image in "Let's go Dram team season 2″ has been very impressed
Eunhyuk : Because my body structure is slimmer than the other members' so there many people think it looks like a girl's but my dream when I was young is to be a footbal player. I used to be a footbal player in the team of Neungkok elementary school, Kyungki-do.
Heechul "I know that people choose me because of my outlook more than my singing ability"
- Heechul-sshi, it's not easy to be an entertainer even with you , right ?
Heechul : It's hard to do both acting and entertainment at the same time. I have to be serious when acting and funny and bitter when it comes to entertainment. Therefore recently I cut down my appearance in variety show to focus on acting.
- What role do you want to try ?
Heechul : I want to try the villain role like a murderer or a psychopath. Those like the role of Ha Jeongwoo-sshi in "The chaser" or Jang Geunseok in "The case of Itaewon homicide"
- Did the other members complain about your individual activities ?
Heechul : Of course. There were many problems about how we could do the promotion for this album "Sorry sorry". I was called the problem child among the team. But the other members had practiced the dance steps without me and still left my spot blank to wait for me. I'm very thankful.
- What do you think about being chosen because of your outlook ?
Heechul : To be honest I know that my outlook impressed people more than my singing or dancing ability. That's why recently I pay a lot of attention in managing my weight. Before filming the drama "Loving you 10 million times" I thought about my fans and had lost 8kg within 2 weeks.
Heechul together with Leeteuk is the eldest hyungs who lead the group. Heechul's special humour had made the atmosphere of the celebration party become mellow. He also amazed the reporter by saying that recently he met Kang Jihwan quite often and he also showed the congratulation message that Kim Myungin sent to him.
② Super Junior Siwon "My ideal type is a person who lead a conversation well"
-
Siwon
-sshi had a role in the Korea-China-Japan movie "Battle of wits", right ?
Shiwon
: Yes, it was a nice experience to me. I felt honour to be able to act with the Korean-Chinese great actors like Ahn Seongki and Andy Lau.
- You have bulit a friendship with Andy Lau-sshi ?
Shiwon
: because of the concert so whenever I have to go to Hongkong from China he always invites me to come to his house. I feel thankful that he doesnt forget to contact me.
- You dont act that much often
Shiwon
: I really want to do but above all I have to do "sorry sorry". Perhaps next year I can meet the fans with a drama or a movie.
- How about attending variety show like the other members ?
Shiwon
: I admire the other members whenever I see them on the variety shows. But I cant do well like that so I will just sit and watch (laugh)
- Your ideal type ?
Shiwon
: I like a person who lead a conversation well and have a good heart.
Before everyone know, 2 hours has passed but we still have 6 members to meet. But we will interviewed Sungmin and Hankyung first so that they can go home because they are suffering from stomachache and cold. They will move to the next seat of Ryeowook, Donghae, Yesung, Kyuhyun.
Hankyung who was born in China "The best guide for Korean life is Heechul"
- Sungmin-sshi, you seems to be especially close with SNSD's Sunny.
Sungmin : We did a radio show together so we are close. The joke around was just for making the atmosphere (laugh)
- It's very pity that MBC "Opppa band " has ended
Sungmin : It just last more than 3 months so I'm sad. But I feel greatful that I can have a close friendship with the people who joined in the show.
- Hankyung-sshi, you have the nickname of "1,3 billion's miracle", right ?
Hankyung was born in China so his Korean is poor, he also is suffering from cold. But compare with the first-days activities, his Korean has got a lot better.
Hankyung : It means that among 1,3 billions people in China, I'm the only one who got chosen to be a singer in Suju (laugh). And however I'm still the one who are more popular than the other in SJM when we have activities in China (laugh)
Ryeowook "I have a tone like girl's"
- Ryeowook is also a member of SJM, right ?
Ryeowook : Recently I travel by plane in China a lot that I even feel like I'm taking the bus to travel around the city. And I like it because now I have saved a lot of mileage (laugh)
- When you come to China, everything you will have to depend on Hankyung, right ?
Ryeowook : Yes, it is. When I'm in China I look up to Hankyung-hyung. At first I'm not close with hyung because of his poor Korean but after coming to China, it has change.
- Do you have any talent that no one else in the group has ?
Ryeowook : It's my most useful talent. It's 13-member activities so if you dont have any individual talent, you will be covered easily. My individual talent is I have a tone like a girl.
- What do think is the condition of a good singer ?
Ryeowook : You have to be in love. The person who has been in love and hasnt been in love have different sensibility. I think I should try to be in love now (laugh)
③ Super Junior "We've debuted for 4 years…there are many nuna fans who got married"
Donghae "Being cut out from the entertainment show is a big hurt"
- Donghae-sshi, what was your feeling when you listened to "sorry sorry" for the first time ?
Donghae : At that time Leeteuk hyung showed a "I really dont like it" reaction. But my thought was it would be a big success. And when we did the dance step, I had felt that it was very cool (laugh)
- Do you have a better foresight ability than leader Leeteuk ?
Donghae : No. Everytime there was a new song, the members' opinions are very various. The members' opinion that "sorry sorry" would be successful or not were just half-and-half.
- You dont appear on entertainment show much
Donghae : I really want to do it but dont know how. Everybody has their own ability. Broadcasting is cold-hearted. Everytime I appear on a variety show, they cut out almost my part and it hurt me a lot (laugh)
On the stage they are the most shining idol stars, but here inside a noisy samkyeobsal restaurant they are like those friends who are having a class union after a long time, it's very peaceful and warm. They drink soju and lastly we have a question for all the members.
"We've debuted for 4 years…there are many nuna fans who got married"
- You have debuted for 4 years, how is the feeling of getting older ?
Kyuhyun : The aunt & nuna fans are getting married and ah, I feel that the time has passed very fast (laugh)
Yesung : As seeing on today award ceremony, there are not many people who are our sunbae.
- Is there any field that you're interested in besides the group activities ?
Yesung : I'm interested in acting too. I've just played in the musical "namhansansung" and acting is really interesting. I also like movie, I own more than 1000 DVDs.
Leeteuk : I want to be a MC and Kang Hodong sunbae is my role model.
- What is the image of Suju when you're 40~50 years old ?
Eunhyuk : although we're middle-age men then but I hope we still can sing, act, be a MC and various individual activities by the name of Suju.
Suju will come to Nanjing tomorrow to have a concert but today Suju are happy with their award and having a sincere interview. They open their heart and voice out their true feeling. With the flush face and red cheek, they said "now we have achieved something" with satisfaction.
original article is here, here, here
translated by evanesco@sj-world.net
------
Siwon and Vanness Wu @ Wang Lee Ya's Wedding
Super junior Choi Siwon attended *王丽雅's wedding ceremony due to him being church friends with 王丽雅's husband, David. After the wedding ceremony, Siwon, together with **玺恩 and 2 females + 1 male returned to the hotel. He also hugged the priest's wife warmly. Along the way, he was waving, smiling & even agreed to take pictures with fans, without any signs of rejection.
*王丽雅 is a model in Taiwan.
**玺恩 is a singer.
Original Source:
HERE
Translated By:
SUPERJUNIOR.WORDPRESS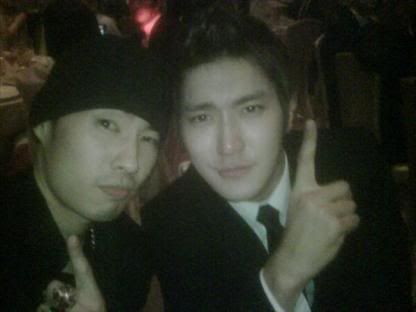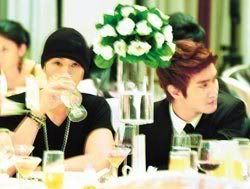 Super junior M at Star King show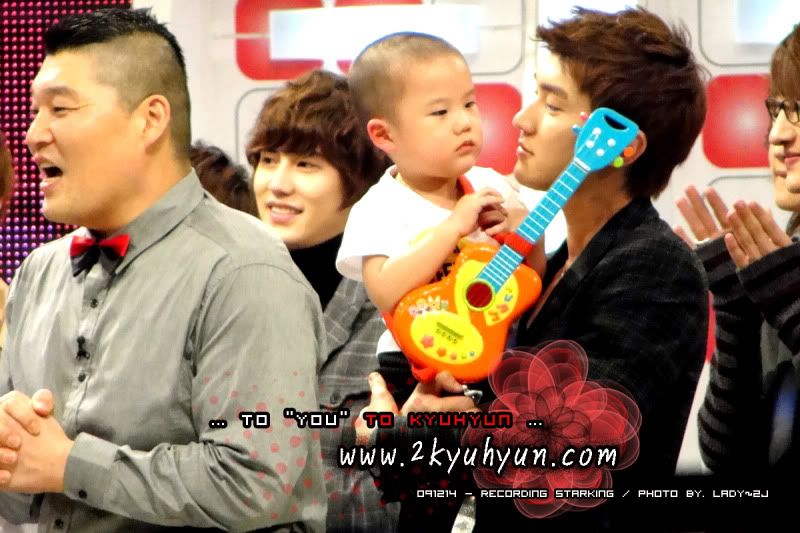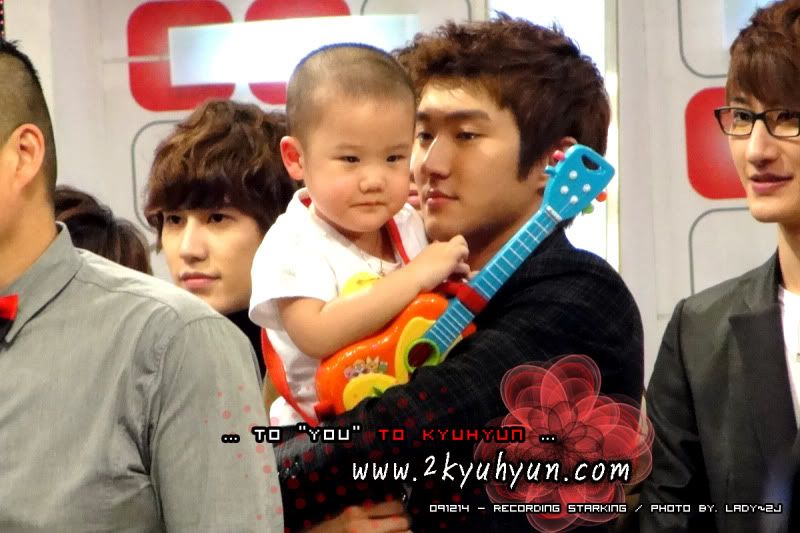 Credits : e⋅the⋅re⋅al, superlover♫, Kerst Elf, and miracle09 @ sj-world.net
If you love this article then click
or
COLLECT EVERYTHING ABOUT CHOI SI WON