Korean boy band Super Junior attracted approximately 32,000 fans to their concert in Thailand over the weekend, according to their agency on Monday.
The concert, titled "Super Junior THE 2nd ASIA TOUR 'SUPER SHOW 2′ in Bangkok" was held at the city's largest indoor stage the Impact Arena on November 28 and 29, SM explained.
"We had to sell the tickets off-line because we had technical difficulties with the website that sold tickets when they last performed here," associates of the concert's promoter True Music was quoted as saying. They also added, "There were more than 5,000 fans waiting in line to buy the tickets a day before the tickets went on sale."
Heechul, a member of Super Junior, gave a solo performance during the concert and the group sang their hit songs including "Sorry Sorry" and "U". Their subunits — namely Junior-K.R.Y., Super Junior-M, and Super Junior-T — also performed their songs for fans.
Super Junior's Asia tour will continue on into several cities in China including Nanjing on December 12, Beijing on January 23 of 2010 and Guangzhou on January 30. They will also perform in Taipei of Taiwan on February 20.
Super Junior is a thirteen-member idol group in Korea, and also one of the most popular K-pop acts in Asia since their debut in 2005. Their song "Sorry Sorry" stood atop Taiwan's online chart for 30 consecutive weeks and Super Junior-M's mini-album ranked No. 1 on many charts in Taiwan, China, the Philippines and Thailand.
Linda Kim lindakim@asiae.co.kr
Super Junior M tops overall chart in Phillipine
http://shiningbluey.wordpress.com/2009/12/02/koreas-super-junior-m-tops-overall-chart-philippines/
After making it to the NUMBER ONE position in Music One album chart last week (Read post here), Asian pop superstar group Super Junior-M's "Super Girl" mini-album grabs the NUMBER ONE spot in Odyssey Records Stores, the country's number one record retail chain with more than 50 records stores nationwide!

Amazing achievements for this Asian Pop Superstar Group! SUPER JUNIOR and its sub-group SUPER JUNIOR-M have two NUMBER ONE albums ("Sorry Sorry" and "Super Girl" respectively) in a period of THREE MONTHS in TWO of the country's BIGGEST record retail chains – ODYSSEY and MUSIC ONE !

Both "Sorry Sorry" and "Super Girl" are released in the Philippines by Universal Records, the FIRST record label to release K-Pop albums in the country.

Here's the article published in a local newspaper:
Korea's Super Junior M Tops Overall Chart

The Top-Selling Albums in the Philippines for the week Nov 16-22, based on Odyssey Music & Video store chain's nationwide sales reports:

Overall
1) "Super Girl", Super Junior M, Universal Records

Philippine Daily Inquirer, 1 December 2009
Newspaper article scan here.
Here is the post from Facebook by Universal Records Philippines.
Credits:
Universal Records Philippines @ Facebook
Philippine Daily Inquirer
------

Super Girl Version B
~
- All new photoshoot booklet
- 5 mandarin tracks + 2 korean tracks
- DVD includes Super Girl MV (Korean&Mandarin) and Blue Tomorrow MV, Photoshoot making and MV Making
Preorder gift (choose 1)
→ A: 1 poster
→ B: 1 mousepad
preorder date: starting 5th December
collection date: 18 December onwards
source : avextrax taiwan
Shared by : carolyn @ sj-world.net
------
Super Junior M on Taipei Walk
er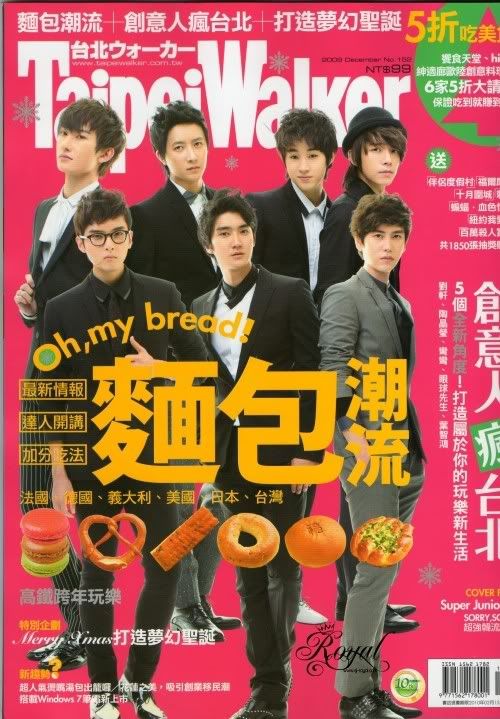 CREDIT: sj-royal.com.tw, 欧妹, Tao
copyright© Super Junior皇家学院 sj-royal.com.tw
扫描:欧妹
提供:Tao
请尊重他人劳动成果 图片严禁二改、涂抹LOGO 转载请自传相簿,严禁盗连!
cr:ruijin
If you love this article then click
or
COLLECT EVERYTHING ABOUT CHOI SI WON