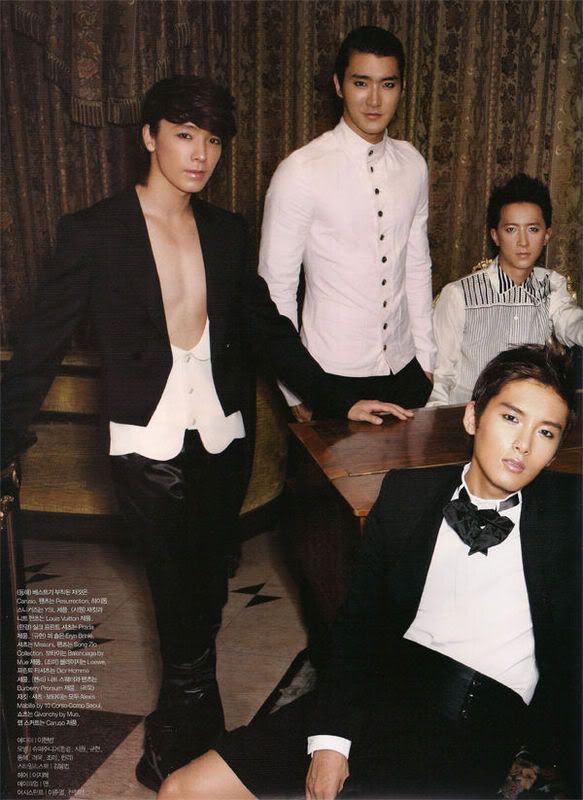 Numéro is an international fashion magazine published by the Groupe Alain Ayache. It has a circulation of 80,000. The womens publication has reached its 100th issue
Numéro was founded in 1998 by Elisabeth Djian, who is now the magazine's editor-in-chief. When asked why she created Numero, Djian commented, "I was bored with magazines that told me how to seduce a man. I wanted to create this magazine for an intelligent, smart woman who wants to read about art, design, music: not about stupidity - creams that take away wrinkles, you know, which is stupid."
Numéro has also got a separate publication for men, under the title of Numéro Homme.
Editor-in-chief Elisabeth Djian
Categories Fashion
Publisher Groupe Alain Ayache
Total circulation (2008) 80,000
Year founded 1998
Country France
Website numero-magazine.com
To be a model of Numero, model must be an icon well known. It's glad to see Choi Siwon and Super Junior M as their model.
Super Junior M has recently collaborated with on their solo shooting for a magazine since debut. The design concept of this photoshoot was made to shed their widely-publicised image as idols, and set to reproduce a secret party of males revealing their masculinity.
Dressed in various strange attire, the seven members of Super Junior M will present an atmosphere that is both sexy and deep, yet with a tinge of implied naiveness. Their outstanding acting received praises from the crew.
The members also accepted an interview during the photoshoot, with them expressing their determination, saying, "Our first album released last year mostly comprised songs which are Chinese versions of Super Junior's original song melodies performed with newly-written Chinese lyrics. Our album this time, however, will contain music and dances of our own style and which belong solely to Super Junior M. We believe they will be Asia's best "hit song" after . Our rapport with members Zhoumi and Henry, who we can only meet during Super Junior M activities, has also improved. Our music recordings and album will also be released in Korea."
The photoshoot will be revealed in the October special issue of .
source from
Sr: Star News (Cr: 丸子 @ 百度圭贤吧 Translated by yurim_sj♥ @ SJ-WORLD.net
), and wikipedia.com
If you love this article then click
or
COLLECT EVERYTHING ABOUT CHOI SI WON