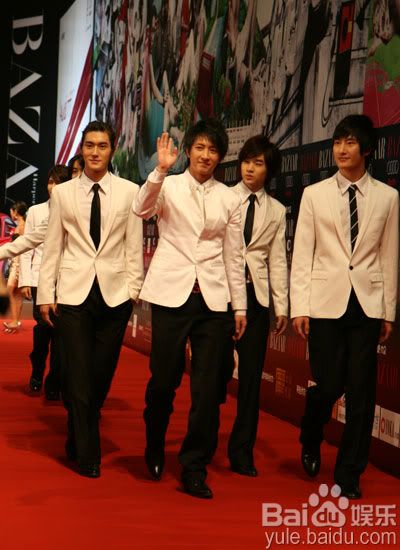 Super Junior M Members Evaluation
The most out of the members Gone through more events than people his age: Hangeng
More Insight than people his age: Zhoumi
Most eccentric person: Henry
Most Vain person: Zhoumi (Hangeng exposed that his bag always has a mirror, and the members exposed that his bag must always contain foundation. Zoumi admitted he is often likes to look in the mirror, and his bag always has CHANEL foundation.)
Most timid person: Henry
Most quiet person: Kyuhyun
Most funny person: Choi Siwon
Most able to deal with himself: Ryeowook
Most improvement in Mandarin: Donghae
Comaparisons between the members
Zhoumi thinks Ryeowook is like a little white rabbit, because Ryeowook?s character is especially meek, and very gentle.
Ryeowook and Donghae think Zhoumi can speak reason among people, they envy his language expression ability.
Hangeng feels Ryeowook is someone who is able to care well for others. He always thinks of Ryeowook cooking food for everyone to eat. At night when everyone is hungry, most of the time it is Ryeowook who cooks, and his cooking skills are good.
Kyuhyun feels Henry is like a little white mouse, firstly his skin is very fair, and his personality is a little mischievous, very cute.
Choi Siwon feels Hangeng's dancing is very good, and that he is a very hardworking person.
Super Junior M Answers
Q: What do you think you will be doing in 10 years?
Siwon: Hope 10 years later, I can continue to be a singer
.
Q: When do you feel you have matured?
Zhoumi: In the 1 year I was training in Korea, I let myself quietly examine many things, regardless if its philosophy, sense of worth, or views towards the future. This process let me feel more mature.
Q: You are the youngest in the group, do you have any pressure?
Henry: A little. But they all take care of me, so I feel I am very lucky.
Q: Normally SJM is performing overseas, how do you maintain your relationships?
Ryeowook: Previously, because of work, I couldn?t make it for my father?s birthday. So for my father, I brought a pair of shoes that he liked. To be able to wear a comfortable pair of shoes that I gave, my father was very happy.
Q: Normally what accessories do you like to wear?
Donghae: Bracelet. Once of my bracelets is from my mother, I?ve already worn it for 3 years, there is a feeling of tenderness.
Q: Normally what is your dressing style?
Kyuhyun: I like wearing very comfortable clothes. A natural and simple style is the best.
Q: What does the last letter M of your group?s name signify?
Hangeng: M is the first letter of Mandarin. On top of that our first album is called <
>. This represents the charisma of the 7 of us, as well as means fan.

Credits: SJ-M Baidu Bar
Scan Credits: hudie&baidu
Translations: --dreamx@soompi


If you love this article then click


COLLECT EVERYTHING ABOUT CHOI SI WON
.